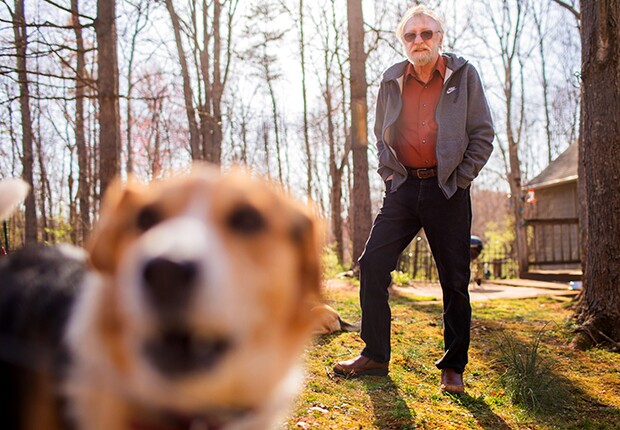 By Mary Westbrook

Carl Wilkins Jr. had heard of this scam before: A phone rings early in the morning, and a woman picks up. On the line, a young man sounds panicked. "Grandma, I'm in trouble. I need help."

The woman's pulse quickens. She has three grandsons. She'd do anything to keep them safe.
"Who is this?" she asks.

"You don't recognize my voice?" the man pleads. "I can't believe this. I'm so scared."

She thinks of her youngest grandson's struggles with drugs and alcohol. "Mikey?" she asks.

The woman's question was precisely the opening the caller had been waiting for. Because in the scenario above, there is no emergency. Instead, the man posing as "Mikey" is about to defraud the woman, persuading her to give up thousands of dollars to get him out of some terrible, and entirely fictional, situation.

The scam works because it "plays on people's emotions," said Wilkins, 67, of Lynchburg, who worked for nearly 40 years at the Federal Reserve Bank of Richmond and has been volunteering with the AARP Fraud Watch Network since 2016.

"An important issue is helping people identify ways to reduce the chances of being [victims] of scams and frauds."

Launched in 2013, the Fraud Watch Network helps protect consumers from scams. Wilkins is one of about 50 volunteers in Virginia trained to teach people about the dangers and prevalence of these schemes and how to avoid falling victim to them.

"I tell people you have to use your head, not your heart," Wilkins said. "If the woman had said to her caller: 'Tell me your mother's home address,' the scammer would have hung up. If you give them a family member's name, they can take on that persona and manipulate you."

According to the Federal Trade Commission, in 2017 there were nearly 350,000 reports nationwide of so-called impostor scams, where perpetrators posed as someone they were not, such as a loved one, government official, or representative of a private organization. The FTC estimates that 1 of 5 people who reported such a scam lost money to it, with total losses at about $328 million.

Virginia ranks 13th in the country for fraud complaints, with 51,932 reports last year and fraud losses estimated at $14.1 million.

Iris James, a Fraud Watch Network volunteer in Virginia Beach, has seen the aftermath of these scams. She recently held a fraud prevention workshop at a retirement home in Norfolk where a resident lost $14,000 to a fictitious charity.

"She was trying to be generous and do something good, and instead she was taken advantage of, at a time in her life when she needs that money and has no means to recover that loss," said James, 66, the community outreach representative for Senior Services of Southeastern Virginia.

"People who fall victims to these scams often don't talk about them because they're embarrassed, but they'll take me aside after a presentation and share their story."

Ginger Thompson, communications director for AARP Virginia, said, "We hear these stories all the time, and that's why it's so important to have our volunteers on the ground, providing workshops, information and resources to Virginians on how to avoid these scams."

AARP's toll-free national Fraud Watch Helpline, 877-908-3360, offers advice on what to do if you fall victim to or suspect a scam, There is also a fraud tracking map that can alert you to possible scams.

Next month AARP Virginia will host a screening of the movie Catch Me If You Can, which chronicles the early life of famed impostor Frank Abagnale. Now a security expert, popular speaker, and AARP Fraud Watch Network Ambassador, Abagnale will give a presentation on Saturday, July 28, at the Virginia Beach Convention Center. For more information, call 866-542-8164 toll-free or go to aarp.org/va.

Mary Westbrook is a writer living in Norfolk.