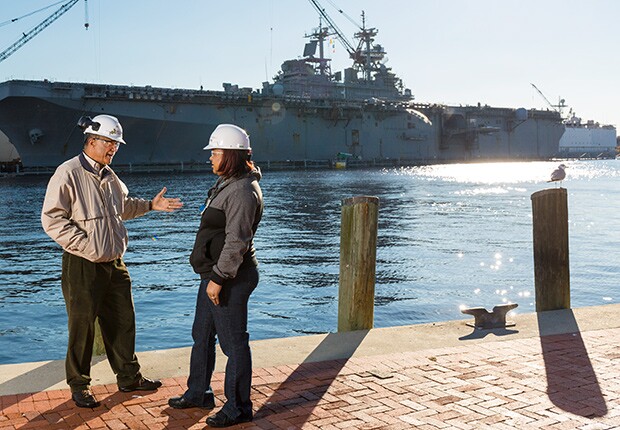 By Tamara Lytle
Donnie Mills doesn't want average employees for his shipbuilding business in Suffolk. He wants the best.
That's why he likes a plan called "work and save" that will be proposed during this year's General Assembly session. It aims to help small businesses like his offer employees payroll deduction plans to save for retirement.
"The greatest resource for our industry is human capital," said Mills, 62, president of Mills Marine & Ship Repair. "There is really a competition on the waterfront to attract, hire and retain good people."
The plan would help, he said, because it pools together many small businesses to attract financial firms to offer savings plans. Instead of firms having to call on 145,000 Virginia small businesses to find those interested in setting up retirement plans, the state would advertise a new program and oversee a website where workers could set up individual retirement accounts.
David DeBiasi, director of advocacy for AARP Virginia, said the idea is a top priority. About 1.25 million employees in the state, most in small businesses, have no access to a workplace savings plan.
DeBiasi said workers are 15 times more likely to save money in an IRA if it's automatically deducted from their paycheck: "The smart thing is to make sure it's offered at work because that's where people want to save."
Many smaller employers haven't offered plans because they can't afford the fees. As envisioned, the savings program would cost businesses nothing in fees and would be optional. The state would fund advertising for it.
Resources for retirement
Workers would pay a fee of less than 1 percent of what they invest to participate. That's competitive, DeBiasi said, because the program pools the assets of lots of savers, driving costs down.
Nicole Riley, state director of the National Federation of Independent Business, said her group has not yet taken a stand on the proposal.
Details of the plan will be written this year, said Del. Luke Torian (D-Woodbridge), who will sponsor the legislation along with Sen. Frank Ruff (R-Clarksville).
A study of the issue, authorized in 2015, will be released this month. The plan may be similar to the Virginia 529 College Savings Plan, Torian said.
"There's a portion of our citizens who, when they come of age, don't have substantial income," Torian said. "The bottom line is to make sure people are able to have resources to support themselves in retirement."
Employees with such savings won't need as much help from state programs that help the poor pay for heating, food, health care and other necessities, he said.
Retirement traditionally was funded through a combination of pensions, Social Security and savings. Most new workers in Virginia are not offered a pension, DeBiasi said, and retirees need more to live on than just Social Security, with an average monthly benefit of $1,239.
Seven states have enacted a variety of work and save plans in the past two years: New Jersey, Washington, California, Illinois, Maryland, Connecticut and Oregon.
Mills has 28 employees at the company he launched in 2012 with Ernestine, his wife of 43 years. He wishes he could afford to offer a retirement plan and said he thinks work and save could make that happen.
"Every employee is here to provide for their families and build a better life for their families," he said. "Our people deserve it."
Tamara Lytle is a writer living in Vienna, Va.