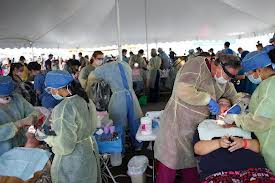 A remote area medical clinic in Wise County provided health care services to 1,700 uninsured Virginians in July 2012.



If Gov. Bob McDonnell chooses to deny 400,000 Virginians health care by delaying the expansion of Medicaid, many will be stranded with no viable or consistent options to obtain health insurance. Unfortunately, more than 33,000 of them are military veterans and about 62,000 are age 50-64. The human cost of delaying expansion is too great.

Without proper health care, vulnerable Virginians must resort to seeking rare services in inaccessible settings -- such as portable clinics set up in barns and circus tents in rural areas. Remote Area Medical (RAM) Clinics serve those under-insured and uninsured across North America and abroad. Their visit to Wise County, Virginia in the summer of 2012 was their 14th visit to the county, and 647th expedition worldwide since 1985. The Wise Expedition, composed of about 1,400 volunteers, runs for three days and services about 1,700 patients from 14 states who will be seen in the County Fairgrounds. Volunteers provide dental, vision, and medical services including; cleanings, fillings, extractions, eye exams, and mammograms on a first come, first serve basis. Due to infrequent medical access, many choose to have teeth pulled instead of repaired and take advantage of receiving new eye glasses. There are also medical talks offered about prevention and treatments, amongst other topics, in hope that individuals will educate their families and communities.

Patients arrive early Thursday and stand in line to receive a number distributed between midnight and 3:30am. Once the gates open at 5:30am, there are no guarantees they will be seen that day, but they are advised to bring a snack and be prepared for rain and cold weather.

"We provided excellent care, but you don't walk away from this experience feeling proud," said David DeBiasi, AARP Virginia Director of Advocacy. "It's a despicable situation that shouldn't exist."

DeBiasi is a registered nurse who volunteered at the clinic.

RAM's 14th Expedition in Wise, the most heavily attended clinic in the county yet, illustrates a long-time need for accessible and regular healthcare in Virginia. Governor McDonnell can choose to help the working poor afford necessary care while boosting Virginia's economy, or continue to depend on volunteer efforts to deliver much-needed health services to Virginia. Virginia's veterans have given too much to be abandoned now. Do the right thing Governor McDonnell, expand Medicaid.