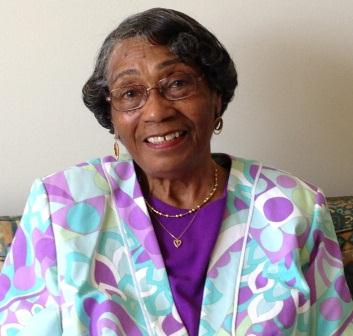 As she'd likely be the first to admit, it's hard to say no to Lois Wells. This tall, striking woman with an inviting smile and welcoming demeanor was the force behind the creation of the Franklin Park Area/Grove Hall Chapter #4685 in Roxbury, one of AARP Massachusetts' most successful chapters. Seeing a need in her community some 23 years ago, Lois pursued creating the chapter for three years before realizing her dream when the chapter was granted an official charter from AARP in 1991.

Lois served as president of the chapter for several years. Over the years, she also traveled widely for AARP Massachusetts, attending events at AARP headquarters in Washington, D.C., as well as New York, California, and throughout Massachusetts, serving as a chapter representative, offering trainings, and giving talks.

Today, Lois, who is 90, has stepped down as president, and now serves as a chapter specialist, providing oversight to her founding chapter as well as Boston Chapter #88.

When asked what she brought to her chapter over the years, Lois paused for a moment, then said, "I brought togetherness. I brought them to love one another. I brought them to work hard. And I brought them to have fun!"

Where are you originally from and what's your work/professional background?

I grew up in Oak Bluffs on Martha's Vineyard. My mother and father were very community-oriented. I remember my mother telling me, "Share your life with other people." I moved to Boston at age 25, and worked as the recruiting officer for placement at Simmons College for 17 years. In 1954, my husband and I moved to Dorchester, and in 1961 we bought a house.

  Join AARP [and volunteer]. You are not here to be selfish. Give back!

Why did you decide to start an AARP chapter, and how did you go about doing it?

I saw the need for a chapter in Dorchester because people there didn't know about AARP and its purpose, services, and benefits for senior citizens. It started as a club and we had our first meeting on April 28, 1990. We had to apply to be a chapter, and it was a long process. After agreement was reached on the name—Franklin Park Area/Grove Hall Chapter #4685—we were given a charter on Oct. 4, 1991. The physical charter remains in a safe-deposit box.

In the early days [news of the chapter] spread by word of mouth, and we advertised in the Banner [ The Bay State Banner], which serves African-American communities of greater Boston]. I'd say there were 44 people at our first meeting; now it runs anywhere from 60-80 people at meetings.

In the chapter there are several different committees, such as Hooks & Needles, a crocheting group that makes adorable baby booties to give to babies; a committee that does things for every holiday; an excellent scholarship fund that pays for a student's books, [and more]. At meetings, committee heads give their reports, and then we go over new business. After that, we always have guest speakers.

Then, after the meetings we'd always have a feast!

It was hard sometimes to get people to take on committee leadership roles. To get people to volunteer I'd always go one-on-one with them because some people are shy. For others, I'd give them this speech: (1) You have a good chapter; (2) If you want your chapter to survive you've got to work; and (3) If you don't want your chapter to [survive], do nothing!

Over the years, what have you gotten back from volunteering for AARP?

The pleasure of helping somebody. I do things because I like people and want to be sure I'm living up to [what] my mother [told me]. I feel that should I leave here now, I've given my all. The other day I told my physical therapist, 'I'm grateful I'm getting to smell the flowers...and I have 4 grandchildren and 5 great-grandchildren.

What would you say to someone who's on the fence about volunteering with AARP Massachusetts?

Join AARP [and volunteer]. You are not here to be selfish. Give back!

Care about issues like Social Security and Medicare? Want to get involved? Interested in providing information and resources to those age 50 and over in your community? Email us at ma@aarp.org for more information. Meanwhile, visit our daily blog, "LIKE" us on Facebook and follow us on Twitter for up-to-date information on our legislative and advocacy activities in Massachusetts, and join us on Instagram, Flickr, and Pinterest.