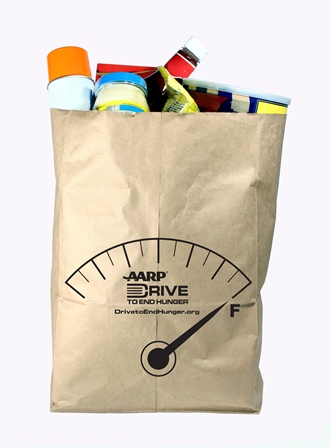 Join AARP DC for the 6th Annual Food Drive on October 3 & 4, 2014 where you can donate non-perishable foods or volunteer at a Safeway or Giant Food store near you in DC. Times at donation sites will vary at each store location. This annual food collection program is a part of Drive to End Hunger, the AARP and AARP Foundation's multi-pronged approach to end hunger among older adults in America. AARP is taking steps to feed those who are hungry now. while We also are developing long-term, sustainable solutions to the root causes of hunger among those 50 years and older.

Thank you in advance for all donations that go to the Capital Area Food Bank (CAFB).

For General Information, contact:

Jacqueline W. Jordan
jwjordan@aarp.org
202-434-7703 Office
202-247-5930 Cell

For Media Inquiries, contact:

Brenda C. Siler
bsiler@aarp.org
(202) 434-7711 Office
(202) 297-1630 Cell

That seniors in the nation's capital go to bed hungry is an unfortunate reality. According to a study of senior hunger conducted by the AARP Foundation, 6.55 percent of the 60-plus DC residents are food insecure. Surprisingly, more than twice as many who are ages 50-59 - 15.41 percent - fall into this category. The study pointed out that the 50-59 year old "does not have access to an age-specific safety net like older Americans (or some younger ones)…" and can be hit harder by job loss.