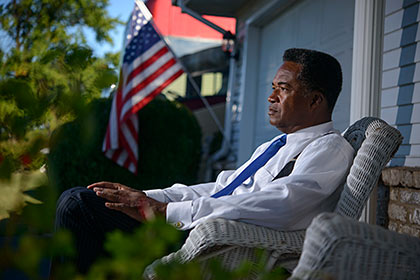 By Cristina Rouvalis

Since retiring as a computer company executive in 2000, John Kelly has spent every tax season helping people who dread the April 15 deadline.
He and other AARP Foundation Tax-Aide volunteers convert that anxiety into relief when they prepare tax returns for free and file them electronically.
When taxpayers walk out the door, "they are all smiles," said Kelly, 73, of Maple Glen.
As the district manager for eight Tax-Aide sites in Philadelphia, Kelly trains 30 to 35 AARP volunteers each year. Volunteer tax preparers must attend classes and pass an IRS certification test.
Kelly also prepares returns for people who turn to Tax-Aide for help. Tax-Aide is aimed at low- and moderate-income people 60 and older, although no one is turned away unless the returns are too complicated.
He said the volunteers are so gratified by the work that they return year after year.
Kelly became a Tax-Aide volunteer two months after retiring. He said he finds a sense of purpose taking the train to Philadelphia four days a week during tax season.

2,700 volunteers
Kelly is one of about 2,700 Pennsylvania AARP volunteers who help make their communities better places to live.
Some prefer to donate their time to programs, such as Tax-Aide, that span a few months a year. Others choose AARP projects that stretch throughout the year. Still others prefer less time-consuming programs—perhaps a one-time event like collecting canned goods during a weekend food drive.
 Gaylord Coston, a 63-year-old retired building manager, weighs in on legislative proposals that would affect the state's 4.4 million people age 50 and older.
He serves on the AARP Citizen Advocate Team, a group of 15 volunteers in central Pennsylvania who keep in touch with lawmakers year-round through emails, letters and frequent visits to the state Capitol.
Team members have argued against utility rate increases, against allowing payday lending companies in the state, and in favor of an additional $50 million for services that help people age in their own homes.
Coston also participates in the annual AARP Lobby Day, when volunteers hand-deliver position statements to members of the state Senate and House. The Elizabethville resident regularly scans the headlines for issues affecting older people.
"It is rewarding when we win," he said. But win or lose, he enjoys the interaction. "Somebody has got to watch the henhouse."
 Mary Hall, 82, a retired geriatric nurse, spreads holiday cheer to patients living in nursing homes around Pittsburgh.
Hall and other AARP volunteers organize Christmas parties at six facilities in Alle­gheny County as participants in the Presents for Patients program run by St. Barnabas Health System.
The AARP members solicit gift donations year-round. They wrap bags of toiletries and items such as stuffed animals and baseball caps. Hall coordinates the party at the center in Scott Township, where she lives.
She enjoys brightening the days of nursing home residents, some of whom rarely get visitors. "It makes you feel good to do things for other people," she said.
To volunteer, call 866-389-5654 toll-free or email paaarp@aarp.org.
Cristina Rouvalis is a freelance writer based in Pittsburgh