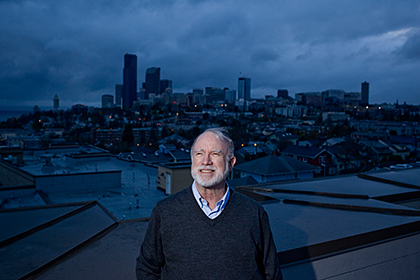 By Dana Neuts
When Stephen Guild, 72, volunteered to work for the AARP Foundation Fraud Fighter Call Center in Seattle, he did not know he would talk to a couple who lost all of their savings—$70,000—when they sponsored an Elvis impersonator who scammed them.

"He was a smooth operator," Guild recalled. It was too late to help that couple, but Guild has found fulfillment talking to other adults to help them avoid fraud.

Guild volunteers several hours a week for the national call center (800-646-2283). He's one of about 1,600 Washington residents who are volunteering in a variety of AARP programs, from mentoring people on financial matters or teaching driver safety classes to researching and advocating on state legislative issues.

Guild also is a trainer for the Finances 50+ program, a joint effort of AARP Foundation and the Charles Schwab Foundation. The program, which expanded to Seattle in 2013, is aimed at adults ages 50 to 65 with modest means. It offers a series of three hour-and-a-half workshops on goal-setting and planning, credit and debt management, and savings and investments.

Guild said some volunteers provide mentoring assistance to workshop participants. "They're not financial counselors, but they can help people think things through," Guild said.

Bette Robbins, 67, is also an AARP volunteer, presenting workshops for women in their 40s, 50s and 60s on ways to plan for the future. It's called Decide. Create. Share. ( aarp.org/decide).

Robbins serves on the AARP state executive council and acts as a nonpartisan advocate, working with state legislators on health care, protection for vulnerable adults, long-term care services and other issues.

"When I became familiar with the AARP agenda, it was something I wanted to help promote," explained Robbins, who has done volunteer work for about six years. The state AARP office, she said, "does a good job of educating, supporting and recognizing their volunteers."

Robbins also briefs U.S. Rep. Jim McDermott (D-Seattle) and his staff on key issues.

From nursing to advocacy
Peggy Quan, 70, of Olympia, has volunteered for AARP since 2009. When she was a practicing registered nurse in Portland, Ore., she wrote updates to nursing legislation, so when the opportunity to work with AARP in a similar capacity came up, she was intrigued.

"It seemed like a perfect fit for me," she said.

Working under the direction of Ingrid McDonald, AARP Washington advocacy director, Quan follows the issues closely—developing talking points and planning testimony for the legislative session.
"I've been really touched by the flexibility in the volunteer program," Quan said. She encourages others to volunteer as well. "Participation can be tailored to your interests and availability."

AARP has other programs seeking volunteers, including instructors for a revamped Smart Driver Course, launched in January, and tax preparers for the AARP Foundation Tax-Aide program.

To learn about volunteer opportunities, go to createthegood.org. AARP members can also call the Volunteer Helpline at 866-740-7719 toll-free or contact Robin Knudson, senior program specialist, at 206-517-9364 or rknudson@aarp.org.
Dana Neuts is a writer living in Kent, Wa.