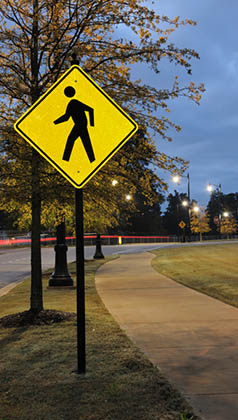 The Florissant City Council has approved an ordinance creating a "Complete Streets" policy to guide community leaders in designing, building and maintaining streets that are safe and accessible for all users.

"We want to thank Mayor Tom Schneider and City Engineer Tim Barrett for working with AARP, Trailnet and others on this ordinance. We also appreciate the entire council signing on as co-sponsors, signaling their commitment to improve the streets of Florissant for pedestrians, cyclists and motorists," said Sheila Holm, AARP in St. Louis Community Outreach director.

The ordinance passage comes on the heels of a survey released this month by AARP finding that one of the greatest unmet needs of St. Louis County residents (age 45 and older) is streets and intersections that are well-lit and safe. Nearly two-thirds of respondents said that when it comes to creating streets that are safe for people of all ages and abilities, they would like to see their local elected leaders treat it as a high priority. The survey summary can be found here.

AARP volunteers and staff have spent the past three years working with community leaders on a variety of policies and activities to make the St. Louis region more livable, from hosting active living workshops in Maplewood to a forum on transportation in the city earlier this month.

"We're excited to work with Florissant leaders to implement the new 'Complete Streets' policy, and we hope to work with elected officials, community organizations and passionate residents on similar legislation across the region," Holm said. "When we partner together, we can make our communities even better places to work, live and play."

The survey of 400 St. Louis County residents was conducted between December 3 and December 20, 2015 by landline and cell phone. The survey has a margin of error of ±5.0 percent. The data in this report has been weighted to reflect the population age 45 and older in St. Louis County. The survey topline can be found here.

More than 850 cities nationwide have adopted Complete Streets policies. Florissant City Engineer Timothy Barrett said in a letter to Mayor Thomas Schneider that "a Complete Streets ordinance directs the City to routinely look for opportunities to enable safe access for all users."

Barrett says the city will review upcoming street projects and repairs, conduct administrative reviews of private development projects, and create partnerships with transportation agencies and other municipalities. The ordinance also ensures that future community designs and public works that include ADA compliance, will help improve and enhance the quality of life for all citizens that make the city more livable.

AARP in St. Louis would like to thank Mayor Schneider and Council members Tim Lee, Timothy Jones, Joseph Egan, Jeff Caputa, Ken Schildoth, Gerard Henke, Jackie Pagano, Mark Schmidt, and Tommy Siam for signing on as co-sponsors of the Complete Streets ordinance.

"We are pleased that the City of Florissant now joins St. Louis City, St. Louis County and the municipalities of Ferguson, Clayton and University City in adopting Complete Streets," Holm said.

AARP is partnering with area organizations along with city officials to provide activities that inform the residents of Florissant and other communities within the St. Louis region about Complete Streets.

AARP is a member of the National Complete Streets Coalition that advocates for Complete Streets policy at the federal, state and local levels. Learn more about Complete Streets at aarp.org/livable-communities.