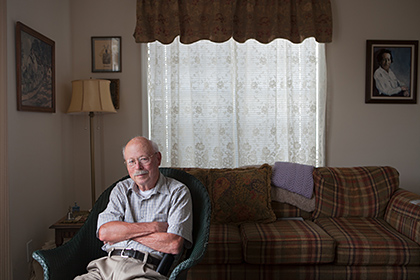 By Karen Haywood Queen

When Yorke Nelson's wife was diagnosed with dementia seven years ago, "I was thrust into doing things I just wasn't accustomed to doing: cooking, buying clothes—especially undergarments—taking care of her personal hygiene."

Becoming the full-time caregiver for his wife upended Nelson's world.

"Suddenly, I was taking care of someone who took care of herself for so many years," said the Williamsburg resident, who turns 76 this month.

Many are walking in his shoes. Nearly 1.2 million Virginians care for ailing family members, according to a 2009 AARP Public Policy Institute report, which values those services at about $12 billion. What is harder to quantify is the psychological cost to the caregivers.

"Many of the calls I get are from caregivers in crisis mode," said Judy Hutchinson, senior care coordinator and caregiver advocate at the Peninsula Agency on Aging (PAA) in Newport News.

The agency is one of 25 nonprofit Area Agencies on Aging in Virginia. All of them offer support and services for people 60 and older and their caregivers.

Find a way to cope

For Nelson, whose wife died last summer, getting a break to play golf helped manage his stress.

"I played golf with one son during the Christmas holiday last year," he said of a time of year that can make caregivers especially frazzled.

"The holidays have a way of bringing out the stress in everybody," said James Brooks, associate state director of AARP Virginia.

It may be one of the few times in the year when far-flung family members are together.

But "being in the middle of the holidays is not the time to figure out who is in charge of patient care and who is in charge of finances," Brooks said.

Instead, he recommends that family members agree to follow up on major issues later.

To further reduce tension, experts advise caregivers to:

Prepare the family in advance for changes in the loved one.
Ask another family member to host holiday dinners.
Reduce the number of people at events to make it easier on the caregiver and the frail family member.
Find ways to help the loved one participate in holiday traditions.
Support services are available to caregivers year-round. For many, the first place to check is one of the state's Area Agencies on Aging. A list and contact information is available at vaaaa.org/agencies.

Services may include respite care, transportation to medical appointments or adult day programs, homemaker/chore services, home-delivered meals, support groups and referrals to other services in the community.

Some services are free; others may be based on ability to pay.

Other resources include:

Virginia Easy Access provides information and resources.
The AARP Caregiving Resource Center provides links to resources and offers a way to connect with other caregivers through an online community. A toll-free hotline is staffed weekdays and Saturdays at 877-333-5885 in English or 888-971-2013 in Spanish.
Register to receive information about online and in-person caregiving events and services or call 877-926-8300 toll-free.
Karen Haywood Queen is a writer living in Williamsburg, Va.