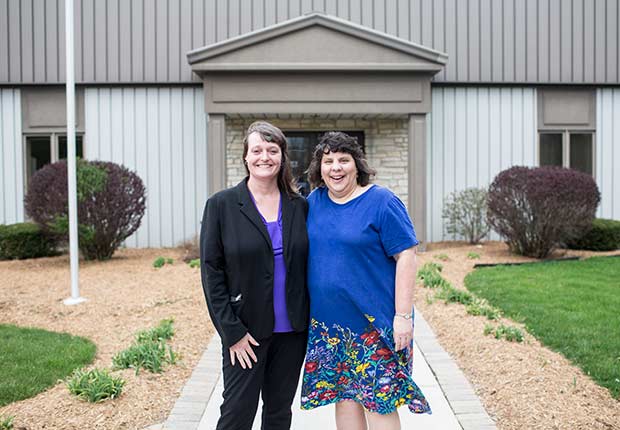 By Joanne Cleaver

Every morning, when Mary Eslick arrives at her job as a payroll manager for Primex Inc., in Lake Geneva, she dreads getting "the call."

The call will come from her mother. It will involve a crisis with her father, 85, whose Alzheimer's disease is progressing rapidly. All he wants to do is putter in his beloved garage machine shop. He sometimes forgets to eat or address his personal care and doesn't want to cooperate when it comes to medical appointments.

At some point, Eslick, 54, of Delavan, knows that a dementia-driven emergency will erupt. When it does, her employer has her back. Her boss is braced for an abrupt departure. Her coworkers are poised to cover her work.

The Primex Family of Companies is one of the first employers in the state to get on board with the Wisconsin Department of Health Services' Dementia-Friendly Employers Toolkit.

Developed in collaboration with local health care providers, the Alzheimer's Association of Southeastern Wisconsin, employers, foundations and AARP Wisconsin, the toolkit equips employers with ways to anticipate, manage and communicate about the collision of work and family responsibilities for employees who are also caring for loved ones with dementia. The program stresses the need for employers to be flexible in providing leave for those employees.

The program was sparked by a recognition among state officials that dementia patients and their families needed much more than the state's existing patchwork of health care and social service programs, said Health Services Secretary Kitty Rhoades.

Rhoades formed the coalition to develop new ways to ensure quality of life for both patients and caregivers—at home, in the community and, for caregivers, at work.

The toolkit was introduced last fall, several months after a related state effort, the Building Dementia-Friendly Communities project.

The toolkit "proved to be immensely popular from the moment it was unveiled," Rhoades recalled.

Simple strategies, such as providing a private room for caregivers to make and take calls with doctors and other health care providers, can be done at nearly all work settings, including factories, stores and offices.

Rhoades' intent is to create a model that other states can adopt.

The need is widespread
Sam Wilson, AARP Wisconsin state director, said 10 percent of people in the state are caring for another adult.

"Their needs are unique," Wilson said. "Most employer caregiving benefits and programs are designed for child care and predictable situations. But the very nature of dementia forces caregiving into a reactive mode that defies schedules."

Often, "Mom is fine in the morning, but she wanders off in the afternoon," he said of a typical situation.

The Society for Human Resource Management found in a 2015 survey that only 13 percent of employers nationwide offer elder care leave programs that exceed the legally mandated minimum under the federal Family and Medical Leave Act.

Employers are just beginning to realize that they must have accommodations uniquely designed for dementia caregivers, said Rick Greene, a consultant with the National Alliance for Caregiving, based in Bethesda, Md.

"It's extremely expensive to replace these workers and their experience," Greene said, adding that this could propel more states to adopt programs like Wisconsin's, which he called "innovative."

Implementing the recommendations offered in the toolkit can't come fast enough for workers facing escalating responsibilities for loved ones with dementia, said Sonja Akright, 45, of Lake Geneva, senior customer service representative at the Primex Wireless division.

Akright leads the company's annual community fundraiser for local Alzheimer's organizations and co-chairs the Walworth County Walk to End Alzheimer's. She and her husband have both dealt with work conflicts in their families due to their grandparents' dementia.

"Employers need to know this is coming so they can take positive action," she said.

Joanne Cleaver is a freelance business writer and author living in Manistee, Mich.