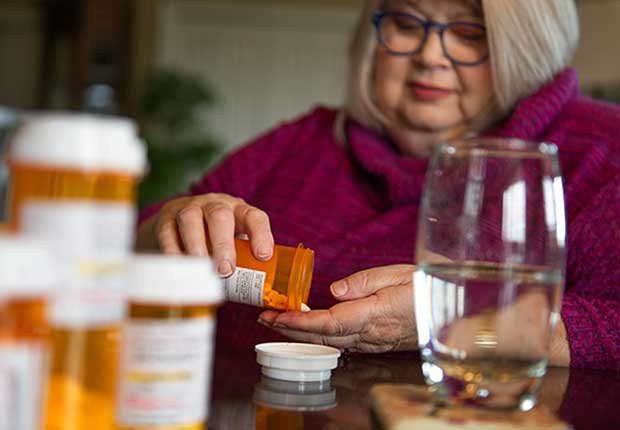 By David Lewellen

Wisconsin's SeniorCare program saved Laura Frost almost half her total income last year.

In 2014, Frost spent $608 on medication and saved $9,317. The program, which covers prescription drugs for those 65 and older, predates the federal Medicare Part D. "I would go broke if I were in a traditional Medicare Part D program," she said.

The 68-year-old Wausau resident, who lost her job in 2007, spent most of her 401(k) on living expenses before she took Social Security at 62. Before she became eligible for Medicare at 65, the nine prescriptions she takes for diabetes and other chronic conditions could have bankrupted her. Two years of Wisconsin's BadgerCare "saved my life at that time," she said.

Both SeniorCare and BadgerCare are Wisconsin health care programs under the federal umbrella of Medi­caid, which is celebrating its 50th anniversary in July. The landmark federal-state program for low-income medical coverage is a vital resource for the state's older population.

"Most people don't realize that SeniorCare, BadgerCare and Family Care are also part of Medicaid," said Helen Marks Dicks, state advocacy director for AARP Wisconsin. AARP members are "grateful for Medicaid when they need help," she added.

Even for those who receive Medicare, Dicks said, "the older you get, the more valuable Medicaid programs become."

The state has a history of creative, expansive Medicaid programs. It was an early adopter of managed care in the 1990s, said Donna Friedsam of the University of Wisconsin Population Health Institute, and most states have followed its lead.

Family Care, which provides services to help older Wisconsinites stay in their homes, "is an important option, and such choices are good for everyone," Friedsam said. Staying in one's own house usually costs less, and people often prefer it, she said.

In innovation and reach, "we were ahead of most other states going back to the creation of BadgerCare," said Jon Peacock, research director at the Wisconsin Council on Children and Families, an advocacy group.

In all, Medicaid's programs cover about 1.2 million Wisconsinites. For every $1 in state money spent on Medicaid, the federal government provides a $1.40 match.

The state has "historically shown leadership in the area of community-based long-term care and broadening access for low-income families," Peacock said.

Expansion rejected
In 2013, however, the Legislature and Gov. Scott Walker (R) declined to accept the federal government's plan to expand Medicaid coverage. Instead, Wisconsin broadened BadgerCare Plus to include childless adults in poverty while removing parents above the poverty line from the program, directing them to apply for federally subsidized health insurance.

As a result, more than 80,000 people who would have been eligible for coverage under expansion did not get it, and the state lost a net $206 million by not taking additional Medicaid dollars. AARP's position, Dicks said, is: "Let's do the Medicaid expansion."

Kevin Moore, director of Wisconsin's Medicaid program, said that recent changes, including the state's refusal to accept the federal expansion, are meant to encourage people to work and "solidify the Medicaid program as a true safety net" while ensuring it is sustainable and affordable.

"Wisconsin struggles with high long-term care costs and an aging population," Friedsam said. "It's a huge challenge facing Medicaid in both the state and the nation."

Wisconsin introduced the SeniorCare prescription drug benefit for older people in 2002, before the creation of Medicare Part D. Janice Erickson, who recently retired as benefit specialist coordinator for the Aging and Disability Resource Center in Kenosha, said, "People love it. SeniorCare saves money for the individuals, the state and the federal government."

Across the country, Medicaid has been "an extremely valuable and effective program in enabling far more people to have access to preventive care, to be healthier and in the workforce, and not to have the risk of bankruptcy hanging over them," Peacock said.

David Lewellen is a writer living in Glendale, WI.