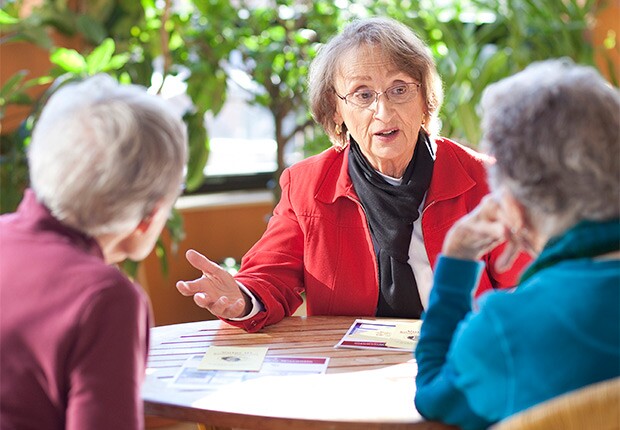 By David Lewellen

Barbara Breit moved from California to Sun Prairie last summer to be near family. Breit no longer drives, but she wants to vote in Wisconsin, and voters must show a photo ID at the polls next month.
Her daughter-in-law, Jan Gordon, called the local Division of Motor Vehicles (DMV) office and was told that the state could work with officials in New York, where Breit was born 77 years ago, to locate a copy of her birth certificate.
But when Gordon visited the office with her mother-in-law, she was told that Breit's California driver's license (with photo) and her latest Medicare statement, with her Wisconsin address, were not sufficient proof of state residency. That required a second trip, armed with a letter from Breit's retirement home attesting to her residency, before the card was issued.
Gordon said the experience taught her the need to start early to get an ID. "Depending on the person's circumstances, it could be very time-consuming and frustrating."
AARP Wisconsin and voting rights groups lobbied against the voter ID law when it was considered in 2011. But now that appeals courts have upheld it, the focus has shifted to making sure that voters are prepared before the Feb. 16 nonpartisan primary for local and state government offices.
"Our big concern now is trying to get information out to people," said Helen Marks Dicks, AARP Wisconsin state issues advocacy director.

Know what's needed
Reid Magney, spokesman for the state Government Accountability Board, which oversees campaigns and elections, said: "Most people have the ID they need to vote. You need a birth certificate and something that proves you're a Wisconsin resident."
For people who don't possess a birth certificate, the state has procedures to help obtain one, he said.
Sandy Drew, 74, an AARP Executive Council member from Madison, said she wants to make sure that "people aren't waiting until the week before a presidential election and suddenly realizing, 'Oh, I don't have an ID.' "
To avert that, throughout 2016 AARP Wisconsin will remind residents—via social media, as well as tables and booths at many fairs and exhibits—of what they will need to vote and how they can get it.
"We encourage people not to procrastinate," Magney said. "Go to the DMV. It could take several weeks or a month."
Voters should check the official website bringit.wi.gov, which lays out what is needed at the polls and beforehand. Specific questions may be answered by calling 866-VOTE-WIS (866-868-3947) toll-free.
Photo IDs are recommended but not required to register, but are necessary on Election Day. Acceptable forms of identification, aside from a state ID card or a driver's license, include a passport, a tribal ID card or a military photo ID card.
To get a free state-issued identification card, voters must go to a DMV office. In some rural counties, state funding cutbacks mean the office may be open only a few days a week.
At the office, they must present documents showing proof of name and date of birth, proof of citizenship or legal status, proof of residence and proof of identity. Some documents, such as a birth certificate or passport, may satisfy more than one requirement.
Voters who are indefinitely confined to their home or a nursing home have different rules: When they fill out an absentee ballot, a witness' signature on the ballot envelope will serve as the identification.
"Our general advice is that it's not necessary to drag Great-Grandma to the DMV," Magney said.
Sandy Boettcher, president of the Wisconsin Municipal Clerks Association, whose members help register voters, said that they are busy learning and explaining the new requirements.
Clerks will be ready to register voters, she said, adding that the state's older residents are "very smart individuals who take their right to vote seriously."
David Lewellen is a freelance writer and editor in Glendale, Wis.