Contacts: David Irwin dirwin@aarp.org; Erik Kriss (518) 447-6723 ekriss@aarp.org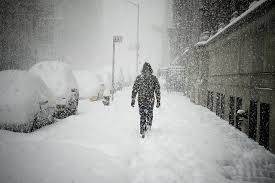 Assoc. Says Older Adults at Higher Risk of Injury Due to Slips on Ice, Cardiac Arrest from Shoveling – Issues Tips to Avoid Both
NEW YORK, New York -- As yet another storm heads towards New York, slips and falls resulting from the constant barrage of wintry weather are soaring. Some reports have the total pegged as high as a 300 percent increase over prior years in New York. With New Yorkers preparing to brave the elements again, AARP is issuing tips to help them avoid injury and possible heart attack.

"Now that New York is set to be hammered with another storm, it's even more important for older adults to be careful about falling or suffering injuries while shoveling snow," said Beth Finkel, State Director for AARP in New York.

AARP says 11,500 people are sent to the emergency room each year with snow-shoveling injuries, and those 55 or older are four times more likely to suffer cardiac-related symptoms than younger adults are.

Orthopedic surgeon James Gladstone, M.D., co-chief of sports medicine at New York's Icahn School of Medicine at Mount Sinai, offers these tips for staying safely on your feet:



Do the shuffle. If you must walk on ice, walking in a shuffle or moving your feet only slightly apart provides better balance than your normal stride. Bending your knees just slightly as you walk will also help you keep your balance.

Walk sideways on inclines. When walking on an icy incline such as a driveway, turn sideways. Then walk in side steps, by taking a step and bringing your other foot up to meet your lead foot, instead of your usual gait of one foot in front of the other. Walking this way while also slightly bending your knees will give you more balance and stability.

Watch out for icy patches. Take care when exiting cars, buses and trains or when walking up and down outdoor stairs. Keep your eyes open for patches of ice.
If you must shovel snow, here are some tips for doing it safely :



Warm up your muscles. Shoveling is a vigorous activity. Before you go outside, warm up your muscles with some light exercise for 10 minutes.

Push, don't lift. Push the snow to the side as much as possible, instead of lifting it. If you must lift, do it properly. Squat with your legs apart, knees bent and back straight. Lift with your legs. Do not bend at the waist.

Think small scoops. Small amounts of snow are easier to lift, and you're less likely to strain your back. Never hold a shovelful of snow with your arms outstretched — it puts too much weight on your spine.

Avoid twisting. Do not throw the snow over your shoulder or to the side. This requires a twisting motion that stresses your back.
Follow us on Twitter: @AARPNY and Facebook: AARP New York

AARP is a nonprofit, nonpartisan organization, with a membership of more than 37 million, that helps people turn their goals and dreams into real possibilities, strengthens communities and fights for the issues that matter most to families such as healthcare, employment and income security, retirement planning, affordable utilities and protection from financial abuse. We advocate for individuals in the marketplace by selecting products and services of high quality and value to carry the AARP name as well as help our members obtain discounts on a wide range of products, travel, and services. A trusted source for lifestyle tips, news and educational information, AARP produces AARP The Magazine, the world's largest circulation magazine; AARP Bulletin; www.aarp.org ; AARP TV & Radio; AARP Books; and AARP en Español, a Spanish-language website addressing the interests and needs of Hispanics. AARP does not endorse candidates for public office or make contributions to political campaigns or candidates. AARP Foundation is an affiliated charity of AARP that is working to win back opportunity for struggling Americans 50+ by being a force for change on the most serious issues they face today: housing, hunger, income and isolation. AARP has staffed offices in all 50 states, the District of Columbia, Puerto Rico, and the U.S. Virgin Islands. Learn more at www.aarp.org .

####