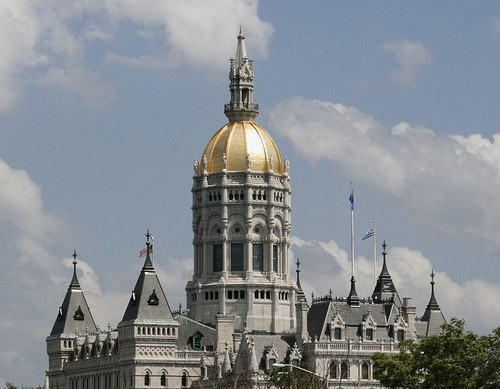 As we wind down a busy and productive 2012, AARP is already looking ahead to the new year, laying the groundwork for our advocacy efforts in 2013 on behalf of our members and all older adults in Connecticut. Some of the issues we will be working on in 2013 include:

Protecting the Safety Net

With the threat of a major State budget deficit looming in 2013 and beyond, our top focus during the upcoming legislative session, which begins on January 9, 2013, will be protecting the most vulnerable older residents from budget cuts to programs that they depend on.

Maximizing Home and Community Based Care

Home care services help keep people out of nursing homes, allowing them to remain independent longer and ultimately saving the state millions of dollars in Medicaid costs. 89% of older adults in Connecticut prefer to receive care at home, rather than in a nursing home. Yet, the Nutmeg State continues to spend a disproportionate share of its Medicaid long-term care dollars on more costly nursing home care.

AARP will advocate for consumer choice in the state long-term care system by requiring that a higher percentage of funding go to home and community based supports for older people and adults with physical disabilities rather than institutional care. We will also advocate for enhancements and tools that facilitate consumer choice and allow individuals and caregivers to find and navigate their long-term care options. AARP supports utilizing federal financial incentives as part of the Affordable Care Act to improve access and broaden the options available.

Supporting Family Caregivers

AARP also supports options for caregivers, such as employment protections and respite programs that give caregivers a break. There are 43.5 million caregivers or one in five adults across the country. AARP estimates they provided the equivalent of $450 billion worth of care to their adult parents and other loved ones in 2009.

Last year AARP was successful in helping to restore funding for the Alzheimer's Respite Program and pass legislation to ease the burden on family caregivers by allowing nurses to train home health aides to administer certain medications. Previously, families had to hire a registered nurse to come to the home to administer medication or be available during the day to provide needed medications to their loved ones themselves.

Ensuring Energy Affordability

For older individuals, particularly those living on fixed incomes, utility expenditures become a larger portion of the household budget as rates increase. In restructured retail energy markets residential consumers should be ensured that standard offer service is always available at stable, predictable, and affordable prices. Suggestions to tie standard offer service to short-term wholesale market prices or other pricing strategies should be rejected. AARP will carefully scrutinize efforts to fund new energy programs through ratepayer fees and fight any unnecessary cost-shift to low-income and older consumers.

Protecting Basic Telephone Service

In 2012, AARP Connecticut fought efforts to deregulate the telecommunications industry in Connecticut and a provision that would have made it easier for companies to drop basic telephone service in the state. AARP opposes legislation that would unfairly deregulate or restructure basic telephone service; and will work to oppose or mitigate all proposed increases in utility rates for consumers. AARP supports programs to assure vital telephone assistance programs like Lifeline for low-income customers. These programs provide streamlined enrollment options; and AARP will work to ensure that telecommunications service providers, including wireless and broadband, offer services customers can depend on.

Defending State Property Tax Credit

In 2012, the State Legislature passed a budget that reduced the state property tax credit for homeowners from $500 to $350. The tax credit helps to ease the financial burden on older homeowners and make it easier for people to stay in their own homes and communities as they age. AARP will fight to protect or restore the property tax credit in 2013.

Expanding Access to Quality, Affordable Health Care

AARP will continue to work with legislators and the Governor to effectively implement provisions of the new federal health care law in Connecticut, including the Connecticut Health Exchange, to ensure that all residents have access to affordable, quality health care.

Federal Issues

AARP fought in 2012 to protect Social Security and Medicare from proposed cuts to reduce the federal deficit, and undertook a major national initiative to elevate the voices of our members and all older Americans about the future of Social Security and Medicare through You've Earned a Say. AARP will continue to protect the financial security of current retirees, as well as their children and grandchildren, and make their voices heard in this critically important debate.

Join the fight!

Help us with this critical work. If you are interested in becoming a volunteer with AARP Connecticut, or if you'd like to learn more about the issues we will be working on in 2013, please call us toll-free at 1-866-295-7279 or send us an email. ctaarp@aarp.org.

Other ways to get involved:

Sign up to be an AARP Activist (http://action.aarp.org) and receive email action alerts from AARP when your voice can make a difference.
Connect with AARP Connecticut online (www.aarp.org/ct) and stay up to date with the latest news, information and local events.
Related Articles

Easing Caregivers Burden

Getting Ready for the Next Big Storm