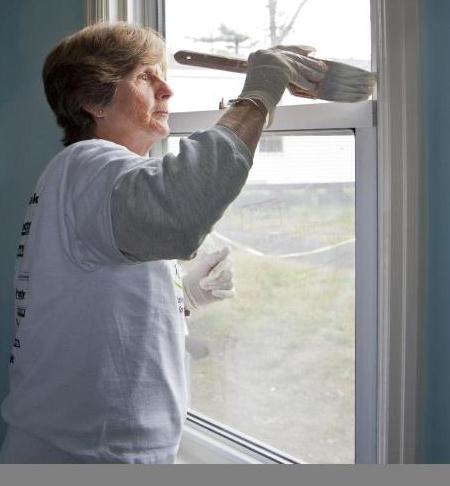 Do you make New Year's resolutions? Whether your list is short or long (or nonexistent!), consider adding some community service to your busy schedule. You don't need to have a specific skill, or even a lot of time. AARP Massachusetts has a wide range of volunteer opportunities – and they all have one thing in common: making a difference. Find ways to give back – to your loved ones, to your community, and to society at large.

In Massachusetts, thousands of members are engaged as volunteers with AARP community service programs, and tens of thousands more help advance issues and make their voices heard through e-advocacy.

Want to help others but not sure what you can do? Check out just a few of the opportunities in the Bay State.

Help make Massachusetts roads safer

Taught and administered by volunteers, AARP Driver Safety has helped millions of drivers remain safe on the road.

Update drivers on the rules of the road by teaching a classroom refresher course.
Become a volunteer leader for the program in your community.
Help residents with low-incomes balance their budget

Co-sponsored by the AARP Foundation, the Massachusetts Executive Office of Elder Affairs, and Mass Home Care, the Massachusetts Money Management Program helps seniors and younger persons with disabilities manage their finances and pay their bills.

Work one-on-one with an older or disabled individual to help him/her manage financial matters.
Assist low- and middle-income residents with their taxes

The nation's largest, free, volunteer-run tax preparation and assistance service, AARP Foundation Tax-Aide serves low- and middle-income taxpayers with special attention to those age 60 and older. The AARP Foundation administers the program in cooperation with the IRS.

Help residents prepare their 2012 tax returns.
Volunteer as a counselor or serve in a leadership role.
Make your voice heard at the State House, and in Washington, DC

Help advance our work on legislation and policy that directly impacts residents 50+ in Massachusetts. Each year, AARP Massachusetts selects legislative priorities that are consistent with the policies adopted by AARP's national Board of Directors. At the State House, AARP is a strong advocate for Massachusetts families on key issues, including health care, long-term care, and retirement security.

Contact your state and federal elected officials about key legislation impacting Bay State residents, either in person, by phone, or by email as an AARP e-advocate.

Coordinate AARP advocacy activities in your community or congressional district.
Educate voters on where candidates running for state and federal office stand on issues important to people age 50 and older.
Join our effort to protect today's seniors and future generations' health care and financial security.
Special Opportunities in Springfield

Live in the Springfield area? Join AARP to help fight elder hunger. SNAP Outreach: Many older residents don't realize that they may qualify for food assistance through SNAP, the Supplemental Nutritional Assistance Program. Fight hunger by assisting with food drives and other outreach activities.

Create The Good

AARP launched Create The Good to connect people with opportunities for service, in whatever way works for them.

While many want to assist others, often they are caring for children and/or parents while holding down full-time jobs – or even working into retirement years. Create The Good expands on traditional ways to volunteer by exploring time-flexible options linked to a wide variety of topics and issues.

5 minutes? 5 hours? Every day, you can find ways to serve your community that fit your life and interests.
Simple, fun ideas. If you like to do things on your own time, these how-to videos and guides are for you. Subjects range from pedestrian safety to emergency preparedness.
Making good even better. Looking for volunteers? Post your opportunities online.
Learn more

To find out more about the many volunteer opportunities available with AARP Massachusetts, email ma@aarp.org or call 1-866-448-3621.