Editor's Note: Dick Weinman's life in an ALF parallel's his wife's life in an Alzheimer's Facility. His feelings about his wife will appear for several weeks in his poems and essays.
Your Picture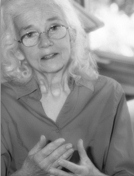 I gaze into your picture,
Trying to see through your eyes,
They smile.
But . . .
You hide it well, the black corruption of your brain,
The darkness of your mind's night,
The in and out shadows of what once was and now is:
That web of sticky strands – thick fiber
That blocks the flow of memory needed to take your mind out of the night,
And lead it into the light of recognition and remembrance.
I look deeply, my eyes penetrate your face, and I see
Some striving to meet my gaze, a push to reach out, some slight surge of memory,
Awareness of the bond between us . . .
. . . the delicate meanderings along the confusing web,
Bringing a glimpse of light into your mind's night.