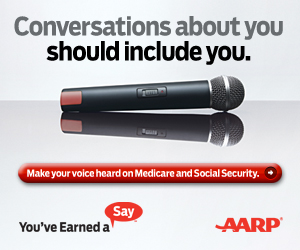 AARP is taking the debate about the future of Medicare and Social Security out from behind closed doors in Washington and into cities throughout Alabama to give you a voice.

For some time, Washington has been discussing changes to Medicare and Social Security behind closed doors as part of a backroom budget deal. Throughout that debate, AARP heard from millions of members who said they're tired of Washington playing politics with the benefits they've earned. That's why we launched You've Earned a Say – a national conversation to ensure that Americans have a say in the future of Social Security and Medicare.

We're calling it You've Earned a Say because Americans have earned their benefits by paying into Social Security and Medicare for years and they deserve to know what the politicians are talking about.

Throughout 2012, AARP Alabama sponsored activities throughout the state – all with the goal of giving Alabamians a chance to their views and offer their own ideas about how to keep Social Security and Medicare strong for the long-term – and activities will continue into 2013, and we hope to see you at one of those events. Until then, complete our questionnaire to give us your thoughts on the future of Social Security and Medicare.

To hear the thoughts of Alabamians like you, check out these videos.

http://www.youtube.com/watch?v=jNnTJ5fdh_k[/youtube]

0000016b-01a0-dd13-abeb-61efa82f0000

http://www.youtube.com/watch?v=qsx_5KyN4dw

[/youtube]