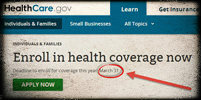 The deadline for open enrollment in the new health insurance marketplace is TODAY, March 31st. However, the deadline has been extended for those consumers who were "in line" but who haven't been able to complete enrollment.

The U.S. Dept of Health and Human Services said, "Just like Election Day, if you are in line when the polls close, you get to vote. We won't close the door on those who tried to get covered and were unable to do so through no fault of their own. So, those who were in line or had technical problems with the website can quickly come back and sign up as soon as possible."

In addition, under limited circumstances, people with complex cases may qualify for a special enrollment period. These include, for example, victims of domestic abuse and consumers who were found ineligible for Medicaid, but whose accounts were not transferred to the Marketplace in a timely way before March 31. These special cases are for specific situations where a consumer was not able to successfully complete enrollment during the open enrollment period despite their efforts to do so and through no fault of their own.

What do you need to do if you need one of these extensions?

Contact the Health Insurance Marketplace call center (

1-800-318-2596

) to request a "special enrollment period" or go to your account at www.healthcare.gov and check a new box (that will appear at midnight April 1st EDT) indicating that you tried to enroll before March 31st.
Paper applications received by April 7th will be processed and those consumers will be able to enroll as well.