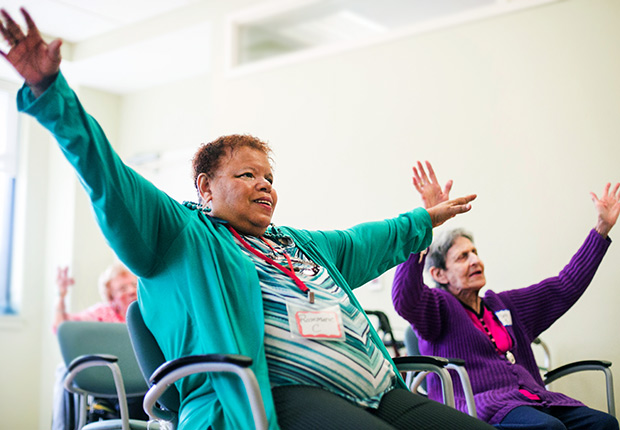 By Michelle Cerulli

Since joining the state's Elder Service Plan, Rosemarie Clark, 68, has gone to doctors' appointments and physical therapy, received medications, picked up new glasses, even practiced tai chi and yoga—all under one roof, at Harbor Health Services in the Boston neighborhood of Mattapan just a few miles from her home.

Most of the funding for Clark's care comes from Medicaid through the state's MassHealth program. "I've been receiving MassHealth for quite a while now. I've always received the care that I needed," said Clark, a former certified nursing assistant and medical technician who became disabled after a back injury in 2007.

The Elder Service Plan is one of the state's PACE (Program of All-Inclusive Care for the Elderly) programs, a national model of home- and community-based care supporting people 55 and older who need the skills of a nursing home but are able to live safely in the community with support.

It provides primary care, adult day programs, rehabilitation, meals and other resources, as well as home health services, transportation, nursing home care and hospitalizations.

PACE is covered completely by Medicaid and Medicare, programs celebrating their 50th anniversary in July. The Elder Service Plan gives community members like Clark, also enrolled in Medicare, the support they need to continue to live in their homes, a major priority for MassHealth.

As the country's largest source of public health coverage, Medi­caid is the major payer for hospitals across the U.S. caring for the lowest-income populations.

It also covers the majority of people living in nursing homes and receiving long-term community-based care. While states design their own Medicaid programs, Massachusetts and the federal government share the costs equally.

Originally part of the state's welfare office, Medicaid began as medical assistance exclusively for older people, children, the disabled and very low-income parents. In the 1990s, Medicaid in the state was renamed MassHealth and shifted from an assistance program for limited categories of people to a public way to provide health coverage for those who could not afford it.

Reaching more people
Expanded eligibility for Medi­caid to reach more people began in many states under the federal Affordable Care Act (ACA) in 2013, but MassHealth's expansion began in earnest in 1997, allowing the program to cover people at higher income levels.

In 2006, the state further expanded eligibility as one of several approaches to provide near-universal health coverage for residents. There are now about 1.7 million MassHealth enrollees. The federal government would later use the state's expansion as a model for the ACA.

Robin Callahan, Massachusetts' deputy Medicaid director, said that people 50 to 64 are a good example of where state health reform and the ACA have been most critical. This is a group that "needs the security of health coverage the most" but is in "the most insecure position of being able to access it," she said.

"Now we are able to say that if you're 50 to 64 and you fall into a certain income bracket, you will be able to get subsidized coverage in Massachusetts," Callahan said. "I think that's a huge deal. In 50 years of Medicaid, that's one of the more recent developments."

The biggest challenge for MassHealth is containing costs, and the program is looking at new payment models, better coordination of care among providers and more community-based options as solutions.

Massachusetts is one of seven states that offer incentives for innovative programs that improve how hospitals provide care to Medicaid beneficiaries and how payments are made for that care.

As for Clark, MassHealth has allowed her to live a more full and independent life.

"Without it, I don't know what I would do," she said.

Michelle Cerulli is a writer living in Brookline.