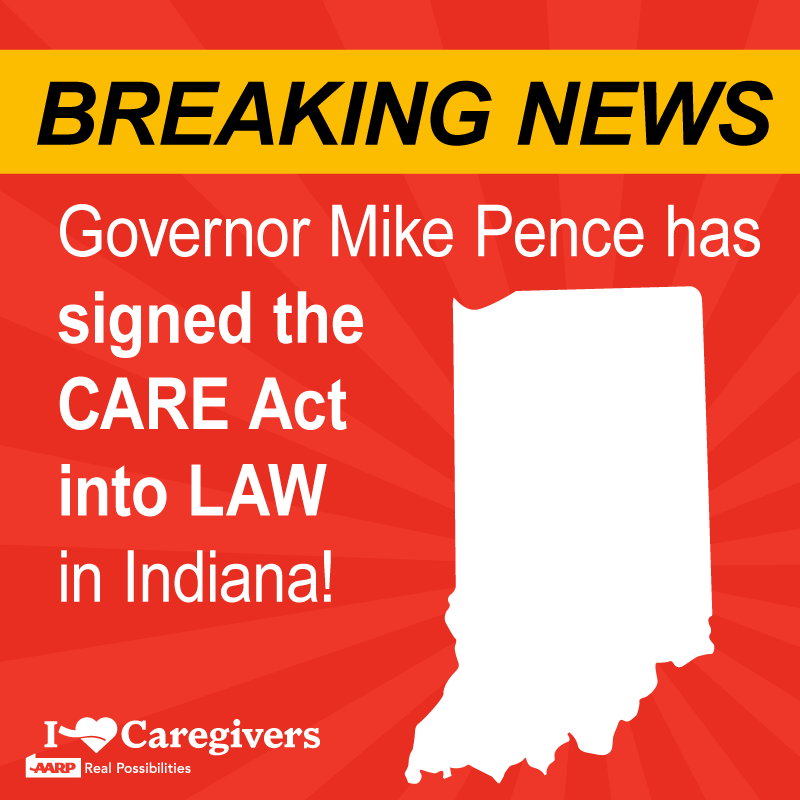 Our top legislative priority during the recently-concluded Indiana General Assembly session has been signed into law by Governor Pence! The Caregiver Advise, Record, Enable (CARE) Act, House Bill 1265, improves coordination and communication between the state's 1.34 million unpaid Hoosier family caregivers, their loved ones and hospitals.

"Our family caregivers here in Indiana are truly the backbone of our long-term care system," said AARP Indiana State Director June Lyle. "We are so pleased that the CARE Act recognizes this, and the critical role they play in keeping their loved ones at home, where they want to be."

House Bill 1265, authored by Representative Dennis Zent, co-authored by Representatives Ed Clere, Karlee Macer and Charlie Brown, and sponsored in the Senate by Senators Patricia Miller, Ed Charbonneau, Vaneta Becker and Mark Stoops, takes some commonsense steps to better support Hoosier family caregivers. Those include: providing the option to record the name of a family caregiver when a loved one is admitted into a hospital; notifying the family caregiver if the loved one is to be discharged to another facility or back home if the patient is not competent to do so; and, providing an explanation and instruction of the medical tasks – such as medication management, injections, wound care and transfers – that the family caregiver will perform at home when the hospital deems it necessary.

"While the value of the care these folks provide to their loved ones is immeasurable in so many ways, in monetary terms that care is valued at about $9.4 billion annually," Lyle said. "To put that into perspective, it's more than four times what the state spends on similar long-term care programs. And that care often goes far beyond basic duties, as almost half of Hoosier family caregivers perform medical or nursing tasks for their loved ones. We are so grateful to Representatives Zent and Clere, and Senator Miller, for their leadership role on this issue and for being true champions of our Hoosier family caregivers at the State House. Our sincere thanks to their fellow co-authors and sponsors too – a clear example of the bipartisan support this bill garnered throughout the legislative process."

The CARE Act takes effect January 1, 2016.