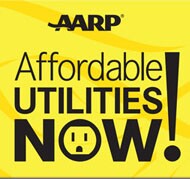 AARP Connecticut and Connecticut Consumer Action Group (CCAG) are urging residents to contact the state's Public Utilities Regulatory Authority (PURA) and tell them to reject what they call an "unfair and unreasonable" rate request by the Connecticut Light and Power Company (CL&P) that would increase an individual customer's bill by an average of $150 a year.
According to AARP State Advocacy Director, John Erlingheuser, "If you live in a town serviced by Connecticut Light & Power (CL&P) and the company has its way, you'll end up shelling out more of your hard-earned money to pay your electric bill - with the bulk being charged before you turn on a single light."
Right now, PURA is considering CL&P's request for a $231.5 million rate hike that would increase each customer's bill by an average of $150 a year by:
1) Raising a customer's fixed monthly charge by $114 a year. This means customers will pay $114 more for electricity, regardless of how much electricity they use, or how much energy they conserve to try to keep their bills low.
2) Increasing the cost of kWh/month so that, on average, customers will pay an extra $35.76 a year. Kilowatt hours per month are based on the amount of electricity a customer uses.
CCAG Director Tom Swan said, "Connecticut residents already pay some of the highest electric rates in the country. Now they are being asked to pay more whether they use any electricity or not. If you've had enough of high electric rates, now is the time to speak up and make your voice heard."
"AARP is fighting hard against unfair rate hikes, but we need residents who will be impacted by this increase to raise their voices before CL&P raises their rates," said Erlingheuser.
AARP and CCAG are urging residents to take action by attending an upcoming public hearing, or sending an email to PURA to oppose the rate hike. AARP has set up a special "Action Page" where residents can submit an electronic letter directly to PURA. The URL is: http://action.aarp.org/CTFightBack
Upcoming Public Hearings are scheduled:
• Wednesday, August 27at 6:30 p.m.: PURA offices, Ten Franklin Square, New Britain
• Thursday, August 28 at 6:30 p.m.: Cafeteria of the Stamford Government Center, 888 Washington Boulevard, Stamford
• Wednesday, September 3 at 6:30 p.m.: Council Chambers, New London City Hall, 181 State Street, New London
###