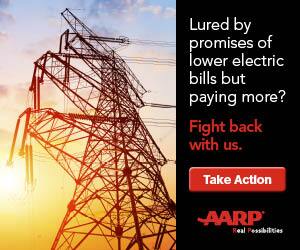 AARP Connecticut State Director Nora Duncan released the following statement regarding final passage of Senate Bill 2 in the Connecticut House of Representatives today:
"AARP is disappointed that the final version of SB2 does not include strong consumer protections that would put a stop to the kinds of unscrupulous marketing practices of third-party electric suppliers that resulted in thousands of state residents paying far more than they needed to for electricity. While the bill does provide some much needed transparency, it doesn't go far enough to stop the kinds of abuses our members, and other state residents, have complained the most about.
"We will continue to work with policymakers to address these issues over the next year to ensure that the market works for consumers, and help them keep more of their hard-earned money where it belongs...in their pockets."
See also:
AARP Survey Supports Stronger Protections for CT Electric Customers
AARP Statement on CT Electric Consumer Legislation-SB2
AARP Statement on Malloy Electric Supplier Proposals