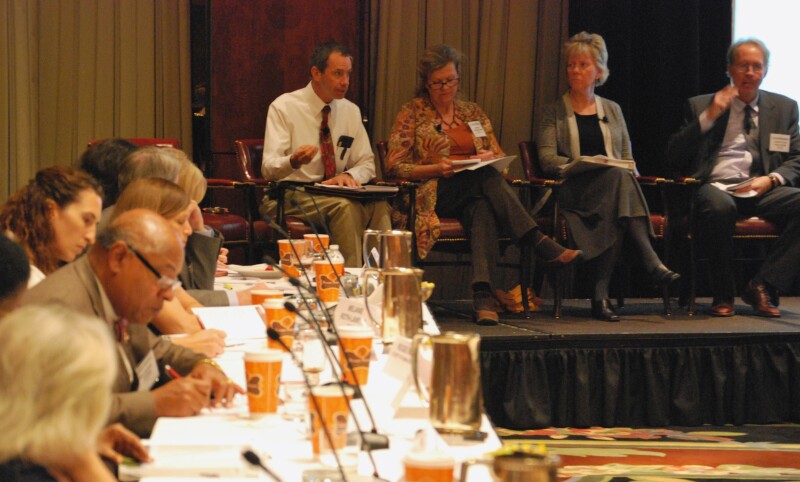 Community leaders in Colorado came together Wednesday to discuss how to make Colorado communities more livable during a GOVERNING magazine roundtable event in Denver
The event, sponsored by AARP, engaged state and local officials, business, non-profit and philanthropic leaders on the options, best practices and strategies for building livable communities in Colorado and across the country.
"Despite the fact that we've been talking about the 'age wave' for years, states and communities are largely unprepared for this demographic shift," Nancy LeaMond, Executive Vice President, AARP State and National Group, said. "According to an AARP Boomer Housing study, many respondents indicated that they lack the kind of access and proximity to the services they are going to want and need as they get older."
Livable communities work generally takes place at the local level, where many decisions are made about community design, development, and infrastructure. Well-designed, livable communities promote better health and sustain economic growth. And they make for happier, healthier residents – of all ages.
"We need to develop a plan of action in our state that builds upon the work of our local communities," Reggie Bicha, Executive Director for the Colorado Department of Human Services. "We are at a time in our history when human beings are going to live longer than ever before, which is a great, great thing. But we need to consider what challenges that brings with it whether that is health, housing or whatever and how to address those needs."
AARP believes that communities should provide such features as safe, walkable streets, better housing and transportation options, access to key services, and opportunities for residents to participate in community activities.
The creation of these systems and infrastructure provides more than just a livable community for all ages. It fosters economic development and sustainable commerce such as rising property values and thriving local retailers.
AARP research consistently shows that nearly 90 percent of people age 45 and older want to stay in their homes and in their community for as long as possible. In addition, we know that there is a connection between the ability of older residents to stay connected and engaged in their community and successful aging.
"Ten years ago, we weren't even thinking about whether a community was "livable," Jennifer Schaufele, Executive Director of Denver Regional Council of Governments said. "Now we are faced with challenges of adapting housing, transportation and access to local resources to meet the growing desire by people to age in place. It's important we work together to develop solutions that will help our residents be able to do just that."
AARP Colorado State Director Maureen Pierce Smile said that the next step is to take the discussions and ideas and begin turning them into reality. She said that over the coming months she expects the leaders from the forum will begin building networks and sharing best practices in the communities and AARP Colorado will assist with those efforts.
LeaMond said the event really brings a spotlight on what is being done in Colorado, but also what still needs to be done.
"We are at the epicenter of a demographic challenge – people are living longer, healthier lives. It's a very special moment in time," LeaMond said. "We must ensure we have infrastructure to care for our oldest old and those most in need -- while at the same time encouraging economic opportunity for the boomers to innovate, and take advantage of all that Colorado has to offer."
For more information on AARP's efforts with Livable Communities, visit http://bit.ly/17eqNQh