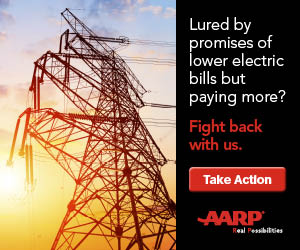 Thousands of Connecticut utility customers are being lured in by unscrupulous energy companies with the promise of saving money on their electric bills but they are paying more. In fact, according to a study by Connecticut's Office of Consumer Counsel, nine out of ten customers who switched to a third party supplier in CL&P's territory and seven out of ten customers in UI's territory were paying more than the Standard Offer during the study period. The overpayments totalled about $13.7 million per month - money that residents, especially older adults on fixed incomes, could be spending on basic necessities like groceries and medication.

As part of our fight for stronger protections for electricity customers, AARP conducted a statewide survey of Connecticut residents age 50 and older that found widespread support for proposals to crack down on unscrupulous marketing practices of third-party electric suppliers and better protect electricity consumers. View the complete survey results here.

"It's clear from these survey results, and from the stories our members have shared with us, that electric customers don't feel like they're getting a fair shake," said AARP Connecticut Advocacy Director, John Erlingheuser. "They're fed up with high electric rates, with the constant marketing and questionable practices of third-party suppliers, and with the lack of oversight and enforcement by state regulators. They want their elected officials to do more to help lower rates and ensure adequate consumer protections are in place in the alternative electric supply market."

Take action to help us curb abusive market practices by some electric suppliers. Send an email to your Legislators and the Governor and tell them to Support Strong Protections for Electric Customers!

See also: AARP Supports Stronger Protections for Electric Customers in Connecticut.