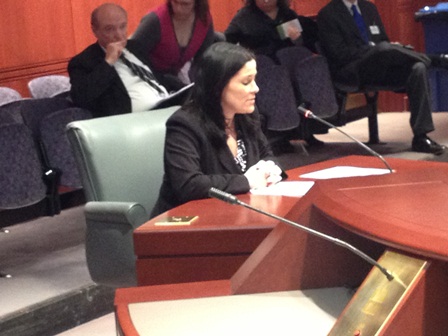 AARP Connecticut State Director Nora Duncan testified at a recent hearing of the Connecticut General Assembly Legislative Program Review & Investigations Committee regarding the reemployment of older workers in Connecticut. AARP volunteer Novlette Williams also shared her story with the Committee exemplifying the barriers faced by older workers. Read Novlette's testimony here. Read AARP testimony below or watch the hearing on CT-N (Ms. Williams testimony begins at 02:08:00, Ms. Duncan after 02:31:00):

Testimony to the Legislative Program Review & Investigations Committee

October 3, 2013

By Nora Duncan, State Director, AARP Connecticut

Regarding Reemployment of Older Workers

Thank you to the Committee for addressing the important challenges faced by older jobseekers in Connecticut. We had the opportunity to meet with the Committee's research staff this summer and we will continue to provide input as we move through this process and the 2014 Legislative Session.

Let me start with some important national facts:

• In 1985, less than two-fifths of people age 50 and older were in the labor force, meaning they were either working or looking for work. By 2011 that figure had risen to nearly half.
• People aged 50+ represented 31% of the workforce in 2011.

This is all very significant and sounds promising for older workers, but regrettably, unemployment statics highlight the struggles facing older workers:

The unemployment rate for the aged 55+ workforce was 5.1% in August. While this is lower than the national average for all ages, it is still much higher than it was at the start of the "Great Recession", when it registered at 3.2%.
Nearly 1.7 million older Americans were unemployed in August.
The average duration of unemployment for the aged 55+ jobseeker was 50.4 weeks in August - nearly a full year – as compared with 34.2 weeks for younger jobseekers.
These numbers reflect what we see here in Connecticut and are the reason AARP is dedicated to helping older jobseekers find work and providing resources to help individuals navigate career changes, regardless of their circumstances. In the last 18 months AARP CT has, among other efforts:

partnered with the Small Business Administration to provide resources for entrepreneurs & potential entrepreneurs;
funded a program for aged 50+ job seeker skill building at The Workplace, Inc.;
entered a partnership with the University of CT Encore! Hartford program to provide tuition assistance and in-kind support for older jobseekers with the goal of transitioning for-profit sector skills to the nonprofit sector; and
supported, along with our partner reSET: Social Enterprise Trust, the Social Enterprise movement through advocacy and publicity.
Nationally, AARP is awash with resources for jobseekers and entrepreneurs alike. You can see some of our research and resources attached to my testimony. I also encourage you to visit the "Work" section of our site, www.lifereimaginged.org, where our partnership with Linked In and the Small Business Administration, as well as professional content, is free to everyone. Additionally, the "Work & Retirement" section of www.aarp.org has valuable information for everyone, of all ages, both working and seeking work.

AARP policy supports, and I strongly encourage you to consider, the following in your recommendations for legislative and administrative changes:

elimination of maximum hiring and mandatory retirement ages for all workers, including public safety employees. Qualification for employment should be based on competency and fitness rather than age;
regulatory and legislative measures to prohibit discrimination against job-seekers because they are or have been unemployed;
legislation significantly limiting the use of credit information by employers;
legislation prohibiting discrimination against workers with caregiving responsibilities, which should include requirements to provide reasonable accommodations to family caregivers;
elimination of barriers to the adoption and acceptance of phased-retirement programs ;
elimination of barriers to self-employment, which include lack of access to capital, technical assistance, and training;
development of training and retraining programs that are accountable to provide workers with skills leading to jobs in high-growth industries and high-quality occupations that pay well, provide employee benefits, and enable workers to continue to develop news skills while employed;
equitable representation of older workers in the workforce development system;
targeting of workers with special needs or who face barriers in their efforts to find work, e.g., the long-term unemployed, persons with disabilities, older workers, and persons who need literacy training;
adequate funding of training and retraining programs and financial aid to jobseekers without the resources to pay for training;
provision of supportive services to workers and job seekers who may need added assistance in their efforts to obtain training and employment; and
collection of adequate data on program participation and services to enable policymakers to evaluate the effectiveness of publicly funded workforce development programs.
Being slightly more subjective and using my personal experience of 7 months of unemployment in the beginning of the "Great Recession," I also encourage you to:

Modernize the Department of Labor training and jobseeker resources so that they better align with the modern world. For instance, professional networking and internet job searching are necessary skills for so many that can, and must, be taught;
Eliminate barriers that might prevent the Department of Labor and other State of CT programs from engaging with and relying upon volunteers and non-contracted community resources to provide expertise to jobseekers, such as Linked In training, networking skills, volunteerism as a skill builder, etc. If the State does not have the resources or manpower to provide these necessary offerings, we need to make accommodations so that others may step in to help; and
Review how the Department of Labor and CTWorks Centers across the state might engage more employers with higher skilled and better paying jobs so that the Centers become a place that more jobseekers see as a viable resource for meaningful employment opportunities.
Thank you again for your attention to this incredibly important subject that must be addressed in a meaningful way by all stakeholders. Your leadership will advance our efforts and promote an environment that will help 50+ workers get back to work.