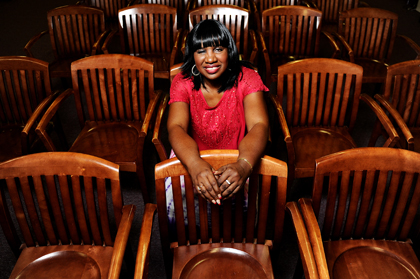 By Effie Dawson

The Rev. Joan Wharton, 63, earns a stipend—but no health insurance—as pastor at Evergreen AME Church in Baltimore.

Wharton economizes when she can by attending free clinics for health screenings, but she has to pay for some medications out of pocket. She is looking forward to getting insurance through the Affordable Care Act (ACA). "It's going to be wonderful," she said.

Starting this month, Wharton and other state residents can sign up for insurance plans offered through the state's health insurance marketplace, called the Maryland Health Connection.

People who enroll by Dec. 15 will have coverage on Jan. 1. People who sign up later will receive coverage about a month after they enroll.

"There's an opportunity to real-ly make a major reduction in the number of Marylanders who don't have health insurance," said Lt. Gov. Anthony G. Brown (D).

State officials estimate that 150,000 residents will enroll this year in health insurance plans offered by 11 companies.

In addition, about 32,800 residents ages 50 to 64 will become eligible for the state's Medicaid expansion program, covering individuals with income up to about $15,850, and families of four with income up to about $32,500.

Consumer-friendly process

"All of those things people have thought of as barriers [to purchasing insurance] should not pose a problem any longer," said Carolyn Quattrocki, executive director of the Governor's Office of Health Care Reform.

In 2011, an estimated 730,000 Maryland residents were uninsured, more than 111,000 of them ages 50 to 64, according to an AARP Public Policy Institute report.

To help people like Wharton figure out the process, AARP Maryland staff and volunteers are giving presentations to civic groups throughout the state.

"AARP is working to ensure that there is a consumer-friendly process by which people will be able to sign up if they don't already have insurance, and making sure the community has the information they need to make the right choices," said Hank Greenberg, AARP Maryland state director. AARP "will be monitoring the process … to make sure they are consumer-friendly."

To enroll, people can go to the marketplace, at Maryland Health Connection. There they will fill in income and family size information and compare premiums, deductibles and out-of-pocket costs in the various plans. They can also determine whether they are eligible for cost reductions or the Medicaid expansion.

Low- and middle-income people may qualify for a subsidy that can be used to lower the monthly premium or can be taken as a tax credit on their federal income tax return.

People can also enroll by phone, at 855-642-8572 toll-free, by mail or in person at local health departments and social service centers.

The plans come in four levels—bronze, silver, gold and platinum—with bronze considered basic coverage, silver standard, and gold and platinum higher coverage with higher premiums.

Enrollment help available

Maryland allocated $24 million to create a "connector" program, designating six regional organizations to identify, educate and enroll residents. The state trained 300 "navigators" and assisters to provide one-on-one help.

"The important thing is to reach out to those Marylanders who would benefit from the Affordable Care Act," Brown said. "That's always the biggest challenge whenever you roll out a major reform like the Affordable Care Act."

The plans offered through the exchange must cover basic health care such as doctor visits, hospital stays and prescription drugs. They can't charge a copayment for preventive care such as mammograms, Pap smears and blood pressure or cancer screenings.

The ACA requires almost all Americans to have health insurance beginning next year or pay a penalty of at least $95 on their federal tax return.

For more information about the ACA, go to healthlawanswers.org.

Effie Dawson is a writer living in Arnold, Md.