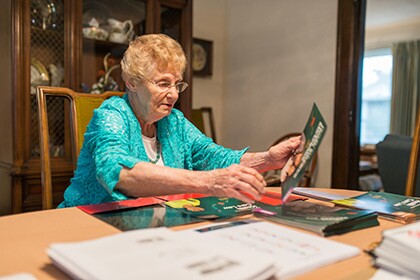 By Janice Brewster
For Ohioans in the dark about the changes in health care insurance, Ann Lemley, 85, is a shining light.
Lemley, of South Point, and 28 other AARP Ohio volunteers have been giving presentations about the federal Affordable Care Act (ACA) throughout the state for months.
Lemley knows firsthand that the presentations help attendees. "When they come in, they're confused," she said. "Afterwards, they're really comfortable. They don't have all the information, but they have the resources to find it."
Volunteers received training through AARP Ohio about the law's impact on various groups, said AARP volunteer and ACA trainer Ed Cokley, 63, of Dayton. He gave his first presentation 13 months ago.
The presentations are intended to explain how the law affects people in different circumstances: those covered through their employer, the uninsured, those who purchase their own insurance, people with Medicare coverage, those seeking long-term care, and small-business owners.
The volunteers offer presentations for AARP chapters and other community organizations. They also provide information at fairs, festivals and local events. To request an AARP speaker to make a presentation for your group, email ohaarp@aarp.org or call 866-389-5653 toll-free.
Have request, will travel
"No matter where they are in the state, we have someone who will go there," Cokley said. Some events are held strictly for invited guests; others are open to the general public. All presentations are offered free.
Since October, Ohio residents and small businesses have been able to choose from up to 200 plans offered by as many as 12 companies through the health insurance marketplace, also called an exchange, where consumers can compare coverage and premiums and sign up for a policy. Not all plans are offered statewide.
People who enroll by Dec. 15 will have coverage on Jan. 1. People who enroll later will receive coverage about a month after they sign up.
The Health Policy Institute of Ohio estimates that 524,000 residents will enroll in health insurance plans offered through the marketplace by 2017. Coverage sold in the marketplace is primarily aimed at uninsured individuals and businesses with 50 or fewer employees.
More than 304,000 Ohio residents ages 50 to 64 don't have health insurance coverage, according to a study by the AARP Public Policy Institute.
Consumers can call a 24-hour telephone hotline—800-318-2596—for more information or visit HealthCare.gov to learn about the enrollment process and the insurance plans. Trained "navigators" and certified counselors provide one-on-one assistance.
Four levels of plans
Plans come in four levels: Bronze is considered basic, silver standard, and gold and platinum higher coverage with higher premiums.
All plans must cover basic health care such as doctor visits, hospital stays and prescription drugs and can't charge a copayment for preventive care such as mammograms, Pap smears and blood pressure or cancer screenings.
Adult children are able to stay on their parents' insurance until age 26, and insurers cannot deny coverage or charge higher premiums based on preexisting medical conditions, a person's gender or occupation. The ACA eventually will eliminate most annual and lifetime coverage caps.
Older people who buy private insurance before they are eligible for Medicare at 65 cannot be charged more than three times the rate of younger customers' premiums.
Individuals with incomes up to about $46,000 or a family of four with income up to about $94,000 may qualify for a subsidy that can be used to lower monthly premiums or taken as a credit on their federal income tax returns.
The ACA requires most Americans to have health insurance next year or pay a penalty of at least $95 on their federal tax return.
For more information about the ACA, go to healthlawanswers.org.
Janice Brewster is a writer living in Cincinnati