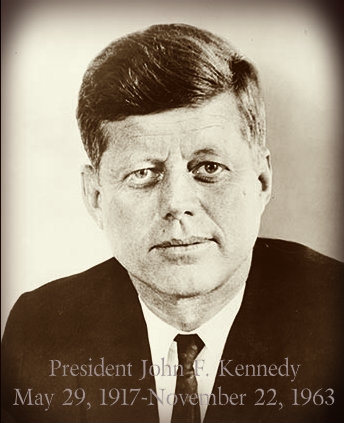 Hello all,

Many of us remember where we were on November 22, 1963 when we heard the news that President John F. Kennedy had been assassinated in Dallas. Last Friday, Nov. 22, 50 years after the death of one of Massachusetts' favorite sons, the nation took a moment to remember our 35 th president. To share your memories or to learn more about these events 50 years ago, please visit www.aarp.org/JFK.

In an interview with the AARP The Magazine, veteran newsman Bob Schieffer recalls the legacy of President Kennedy. "He understood that it was not always what the president said; sometimes it was the way he said it. People loved his banter with reporters. They even loved the way he could charm his way past answering the questions he didn't want to answer…He brought style and grace, and inspired a generation to do something for their country. That is the great contribution that Kennedy made."

In the spirit of his famous inaugural address, let's ask not how the legacy of John F. Kennedy can inspire others, but ask how it can inspire you. Learn how you can give back to the country, and your community, today.

Attend a "Social Media 101" Workshop at AARP Massachusetts

Does social media feel like a foreign world to you, complete with its own language of 'tweets,' 'likes,' 'followers,' 'pins' and more? Do you have a Facebook account…but are afraid to use it for fear of posting something by accident? Or perhaps you're reasonably comfortable on some social media sites, but would like to learn more.

Regardless of where you fall on the social media spectrum, AARP Massachusetts cordially invites you to attend a " Social Media 101" hands-on workshop! We'll focus on Facebook and Twitter, with mention of Instagram and Pinterest as time allows. We're also looking for social media volunteers who will help us monitor our various AARP Massachusetts social media accounts. Become an active member of our online community!

We're offering two workshop dates to choose from— Thursday, Dec. 12, 2013, and Thursday, Jan. 30, 2014 (please choose one) . The workshops will be identical, and both will be held from 10 a.m. to 2 p.m. Lunch will be provided, and the workshops will be held at our downtown Boston offices at One Beacon Street, Boston, MA 02108.

The workshops are free, but registration is required for planning purposes and because space for each date is limited. Here are the details:



WHAT: AARP Massachusetts "Social Media 101" Workshop

WHY: To learn how to use Facebook, Twitter, with an introduction to Instagram and Pinterest

WHEN: Thursday, December 12  or Thursday, January 30 (choose one)

WHERE: AARP Massachusetts, One Beacon St., Boston, MA 02108

TIME: 10 a.m. to 2 p.m., with lunch included

COST: Free! (registration required)



Remember, the workshops and lunch are free but registration is required and space is limited. For questions, please call us at 617-305-0505 or email Carol Brooks Ball, senior social media specialist, at cbrooksball@aarp.org. Hope to see you at one of our "Social Media 101" Workshops!


Photo EBT Cards in Massachusetts
Massachusetts state law now requires that certain Electronic Benefit Transfer (EBT; replaced food stamps) card holders be issued EBT cards with their picture printed on the card.

Over the next few days, each of the 170,000 SNAP recipients in Massachusetts will receive a new EBT card with their picture on their card, generated using available photos from the RMV database. Another 50,000 SNAP recipients will receive appointment letters to come to the Department of Transitional Assistance to have their photo taken. The remainder of the 500,000 SNAP recipients – approximately 270,000 SNAP households— are exempt from this new EBT photo policy. They will continue to have EBT cards without photos.

Here are three things that you should know about the photo EBT cards:

1. About half of SNAP households will have a photo EBT card. Under state law, households will get a photo-less EBT card when the head of household is:

Age 60 or older
Disabled or blind
Under age 19
A victim of domestic violence
Has a sincere religious objection to a photo.


2. Every SNAP household member has the right to use the EBT card. Stores cannot refuse to accept the EBT card from household members, such as spouses or older children. This is true even if their name or photo is not on the card. In addition, caregivers are authorized to use EBT cards for those they care for.

3. Stores cannot treat SNAP recipients differently from other shoppers. A store clerk cannot ask to see an EBT photo card unless all customers using credit or debit cards are routinely asked to show a photo ID. Finally, stores that accept EBT cards cannot set up "SNAP-only" checkout lines or discriminate against SNAP households.

Here's to a happy and healthy weekend for all.

Best,

Leslie