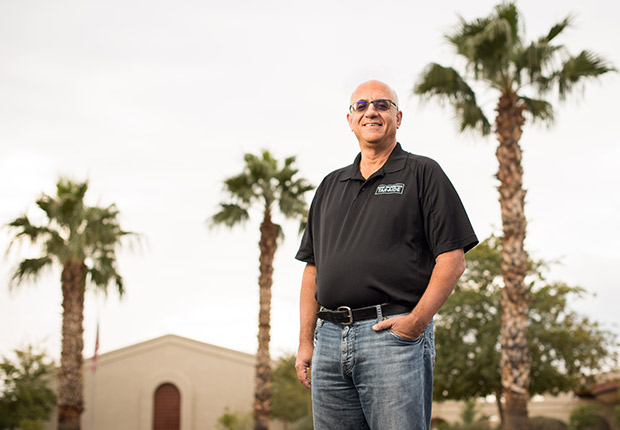 By Ford Burkhart

On most days, Jim Graff finds joy in doing tax returns as one of 1,200 volunteers with the AARP Foundation Tax-Aide program in Arizona.
But, he noted, "Some of the information is very sad."
For example, evidence of identity theft may show up when a return is filed. The IRS refers taxpayers with such problems to volunteers like Graff, an old hand at the tax return game. He retired after 30 years as a field auditor for the New York Department of Taxation and Finance. And that's why AARP Foundation made Graff, 60, a district coordinator and its state technical coordinator.
When he retired to Sun City in October 2011, his first step—after finding a golf course and a bowling alley—was to look up the AARP Phoenix chapter. "By January I was in training" to be a volunteer.
Tax-Aide volunteers are on duty at about 80 sites in every major town in Arizona. They've been helping clients since tax season started Feb. 1, and they'll operate through April 18.
Last year, the free service helped more than 90,000 Arizona taxpayers and prepared 96,500 returns (some people file in two states). It saved Arizonans roughly $10 million in fees they would have paid to commercial preparers.

Spanish speakers needed
Nationally, roughly 35,000 trained volunteers help more than 2.6 million taxpayers file their taxes. Tax-Aide is open to anyone, even non-AARP members, though it gives special attention to low- and moderate-income people 50 and older. The program does not handle extremely complex returns.
Go to aztax-aide.org or call 888-227-7669 toll-free to find a location near you.
Many sites offer tax help in English, Spanish and other languages. In Tucson, "se habla español"—Spanish is spoken—at most sites.
If you speak Spanish, Tax-Aide needs your help. "We never have enough bilingual volunteers," said Maria Ramirez-Trillo, AARP Arizona associate state director for community outreach.
Frank Perazelli, 76, of Phoenix, the Pacific regional coordinator for Tax-Aide, said assistance in Vietnamese and Chinese is provided at several sites there. "Our mission is to help everybody," he said.
AARP recently opened a Tax-Aide multicultural center in Tucson at the Martha Cooper Library, 1377 North Catalina Ave., in an area where many immigrants live. There, tax help is provided by volunteers in French, German, Vietnamese, Arabic and Nepali, in addition to Spanish, said David Weintraub, 63, district coordinator for central Tucson.
"We can handle just about anything," Weintraub said.
Clients range in age from over 100 to college students referred by a grandparent.
To receive tax help, bring a photo ID, such as a driver's license, for everyone filing a return. Bring all income information, including W-2 forms; unemployment compensation statements; and 1099 forms for miscellaneous income, Social Security benefits, pensions, annuities, interest income and dividends. The full list is at aztax-aide.org/files/checklist.pdf.
Under the Affordable Care Act, you'll need to document your health insurance status. The ACA requires everyone to have a minimum level of coverage unless they are exempt.
Also, bring a blank check from a bank account that would receive any refund deposit.
Finding new volunteers is tough. "Tax law is not simple," Perazelli said. "Volunteers have to commit to 36 hours of training for newcomers, and a lot of self-study. They'll work at least four hours a week during the tax season."
To stay current, all volunteers take a refresher course every year. Tax preparers also take annual tests to be certified by the IRS.
But the hard work pays off, Graff said, such as when a low-income taxpayer is surprised to get a state property tax credit of up to $502. "For someone living on Social Security, that can be huge." Graff said. "Really, it's all about helping people."
For Janelle Riedl, 63, of Prescott, the AARP Arizona state training specialist for Tax-Aide, giving tax help is essential to a healthy outlook. "As we age, we've got to use our brain cells or they'll get stagnant."
Ford Burkhart, a retired New York Times editor, lives in Tucson.