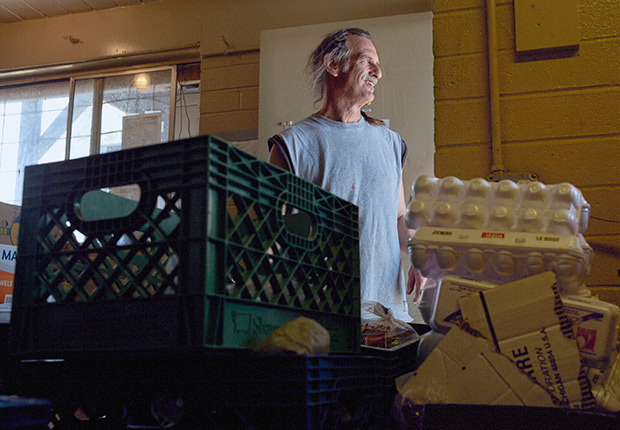 By Miriam Davidson

Thanks to the expansion of Arizona's Medicaid program in 2013, Brian Flagg has health insurance for the first time in his adult life.

Flagg, 60, has lived and worked at the Casa Maria soup kitchen in South Tucson since 1983. In addition to room and board, he earns $10 a week helping prepare and distribute 500 sack lunches and 200 food boxes each day. He also advocates for the homeless and city bus riders.

"I'm relieved," Flagg said, about the insurance. He is finally able to see a doctor for nagging knee injuries that forced him to quit playing basketball in a local over-40 league.

Flagg is getting treatment while he can, because he knows he may not be insured for long. Arizona's Medicaid expansion is facing legal and political challenges, and its future is clouded with uncertainty.

As the country's largest source of public health coverage, Medicaid is marking its 50th anniversary this month. It's the major payer for hospitals caring for the lowest-income populations, and it covers most nursing home residents and those receiving long-term community-based care.

In 1982, when it established the Arizona Health Care Cost Containment System (AHCCCS, or "access"), the state became the last in the nation to adopt Medi­caid. In 2013, it became one of the first with a Republican governor to adopt Medicaid expansion.

Under the plan backed by then-Gov. Jan Brewer, enrollment of childless adults like Flagg, frozen since 2011, was restored, and annual income limits were raised to $15,660 for a childless adult and $21,192 for a couple.

People from more than 600 organizations, part of the Cover Arizona coalition that includes AARP, worked to identify uninsured low-income adults and get them signed up. Flagg said he learned he was eligible from a health care "navigator" who came to Casa Maria to help potential enrollees.

Massive enrollment
The effort proved hugely successful: More than 368,000 Arizonans have enrolled since January 2014, increasing the ranks of Medicaid beneficiaries by nearly 30 percent to more than 1.6 million people, or about 1 in 4 state residents.

"A lot of them work yet did not get health insurance," said Steve Jennings, associate state director of AARP Arizona. "Getting these people coverage is good for the economy. It brings more money into the state to have healthier families."

While supporters are signing up new enrollees, opponents are trying to undo Medicaid expansion.
Thirty-six Republican legislators have teamed up with the conservative Goldwater Institute to file a lawsuit, arguing that an assessment imposed on hospitals to pay for part of the expanded coverage is in fact a tax, which requires a two-thirds vote of the Legislature.

Since Medicaid expansion barely passed with simple majority votes, a decision in favor of the opponents could threaten the expanded eligibility. The case is under review.

Medicaid expansion also faces opposition from Arizona's new Republican governor, Doug Ducey, who campaigned against it. Ducey and some legislators cite cost concerns, saying expansion could overburden the state budget in the long run.

Arizona health care providers generally support the federal Affordable Care Act and Medicaid expansion. Advocates note that federal funds are paying for 100 percent of the coverage of new beneficiaries under expansion. That share will decline to 90 percent by 2020.

Hospitals voluntarily paid the special assessment, about $250 million a year, said Greg Vigdor, president and CEO of the Arizona Hospital and Healthcare Association.

Yet hospital profits have dropped since Medicaid expansion, and Vigdor said Arizona's low reimbursement rates—70 cents for each dollar of care, with more cuts coming—could drive some providers to refuse Medicaid patients. Medicare's reimbursement rate to providers is 97 percent.

The hospital association has been meeting with experts from other states about ways to make the program more sustainable. As the first Medicaid program to institute managed care, Arizona once served as a national model for health care cost-cutting.

If legal challenges do not succeed, the state will be part of a nationwide effort to contain health care costs while still covering as many people as possible.

Miriam Davidson is a writer living in Tucson.