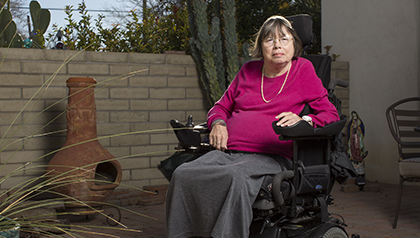 By Miriam Davidson

When an invitation arrived for author and essayist Nancy Mairs to lecture at King's College London, she was pleased and excited.

"I wanted it to be true," said Mairs, 70, of Tucson. A near-quadriplegic from advanced multiple sclerosis, she examines disability and faith in her writings.

Mairs and her husband, George, 73, exchanged several emails and phone calls with a "visiting professor" arranging a conference on "The Mystery of Life and Death."

The professor said the trip was paid for—all Mairs had to do was put up a "refundable" 668 British pounds (then about $1,200) for a work visa.

Her husband withdrew the money from the bank and was about to wire it to a "British embassy official" in London when one last, hard look at the professor's emails led him to conclude they were being scammed.

Other Arizonans haven't been so fortunate. The state ranks first in the nation in identity theft, according to U.S. Justice Department data, with about 150 reports per 100,000 residents. Most of these cases involve stolen credit card or bank information.

Personalized "spearphishing" scams, like the one that almost netted George and Nancy, are also on the rise here and nationally.

Watchdog alerts available

With Arizona ranking as one of the "most scammed" states—and with many of those scammed being older—AARP Arizona is fighting back with the launch of a statewide Fraud Watch Network in 2014.

Arizona is one of 12 states leading the development of the AARP Fraud Watch Network, a broad-based national campaign that seeks to educate people about fraudulent schemes, how to keep from being a victim and what to do if it happens.

The national network has several components, including real-time watchdog alerts, the latest information and resources, and access to live help. It is open to all.

In Arizona, Fraud Watch Network is working with the state attorney general's office, financial regulatory agencies and other organizations to cosponsor presentations in Phoenix and other cities.

"These will be opportunities for folks to hear from experts and ask questions on how to safeguard themselves against ID theft and fraud," said Shawn Trobia, an AARP Arizona program specialist.

Additional Arizona Fraud Watch Network efforts include:

Volunteer training. AARP Arizona is training members to make public presentations statewide. Bilingual trainers are available.
Tele-town hall discussions. Later this year, AARP Arizona will call roughly 30,000 members and invite them to participate in town hall discussions with experts.
Shred-a-thons. Free paper-shredding events, which highlight the need to protect personal and financial information, are scheduled for the Tucson and Phoenix areas.
Up-to-date information on all these events will be available on the AARP Arizona website, its Facebook page, or by calling 866-389-5649 toll-free.

Members wishing to be trained as volunteer presenters should contact Shawn Trobia at 602-300-5713 (strobia@aarp.org) or Maria Ramirez-Trillo, associate state director for community outreach, at 602-577-4862 (MRtrillo@aarp.org).

As in the Mairs case, Scammers frequently operate along the U.S. border, although fake email addresses, sham websites and "spoofed" phone numbers can make them appear to be anywhere. Three of the top five states for scams are along the Mexican border: Arizona, California and Texas, according to Justice Department data.

Miriam Davidson is a writer living in Tucson, Ariz.