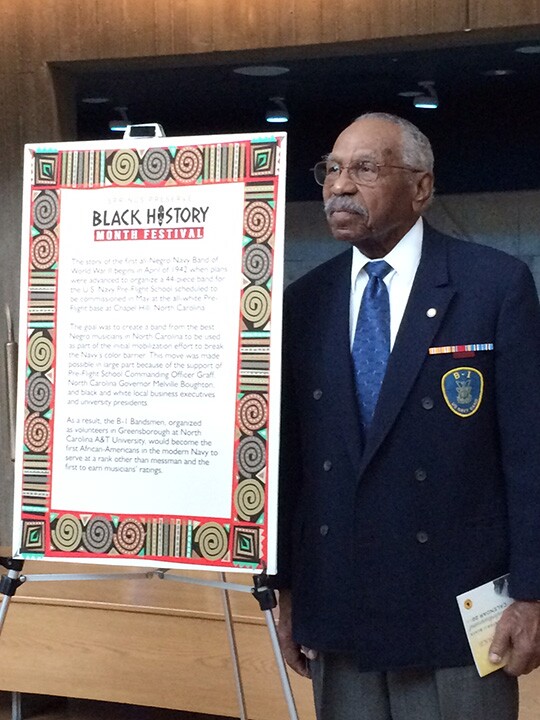 Las Vegas resident Simeon Holloway was among the groundbreaking musicians who served our country during World War II as part of the U.S. Navy B-1 Band. Holloway, who at 93 is an active member of AARP Chapter 4395, shared memories and unveiled a collection of historic photographs at the annual Black History Month Festival held recently at Las Vegas Springs Preserve.
Organized in 1942 in North Carolina, the B-1 Band played an important role in the integration of the military. Its 44 members would become the first African-Americans in the modern Navy to serve at a rank other than messman and the first to earn musicians' ratings. Its deployment to the all-white Navy Pre-Flight School at Chapel Hill was just the beginning of a barrier-breaking journey. The B-1 bandsmen performed at base social gatherings as well as official cadet formations, regimental reviews, ceremonies and parades. One of the naval cadets they played for was future President of the United States George H.W. Bush.
From North Carolina, the bandsmen were sent to Hawaii, where they played for ships embarking for the Pacific, officers clubs, radio broadcasts and sports events. They performed with many white stars, including Kate Smith, Jimmy Durante and Boris Karloff at bond rallies and community concerts.
The members of the B-1 band served honorably and with distinction, both at home and overseas, despite the constant challenges of combatting prejudice and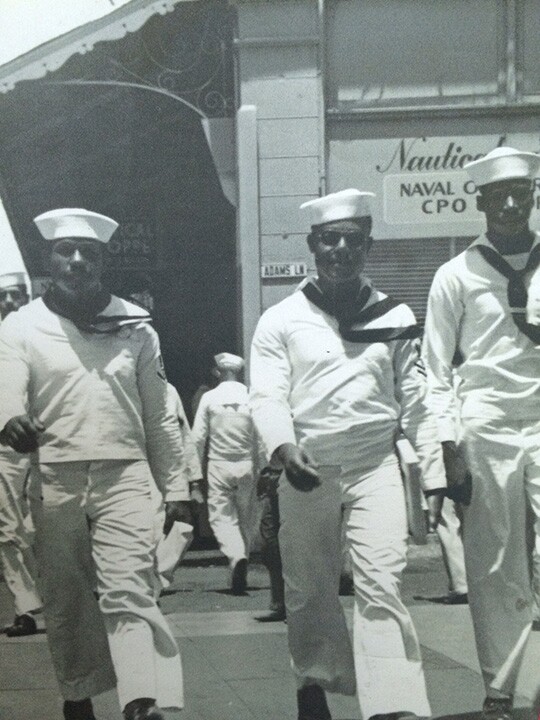 callousness. Their efforts and acclaim helped pave the way for full integration of the U.S. Military in 1948. Following their honorable discharge from the Navy, B-1 members went on to long and distinguished careers - including Bandmaster James Parsons, who became the first African-American appointed to a U.S. District Court judgeship by President John F. Kennedy. Simeon Holloway went on to become an actor in television and film, with memorable roles in "227," "Little House on the Prairie" and "Hill Street Blues," among others.
The B-1 bandsmen were finally honored publicly by the Navy in 1981, when they were conferred honorary degrees in recognition of their service and the integral part they played as military integration pioneers by the Naval Amphibious Base School of Music.
Related - VIDEO: Navy veteran talks about role in historic band ( KSNV Channel 3 Las Vegas)
Above: Simeon O. Holloway, 93, shares memories of his time as a member of the U.S. Navy B-1 Band at Las Vegas Springs Preserve on February 15, 2014.
Right: Holloway (left) and other B-1 bandsmen following a special performance in Hawaii on Victory Over Japan Day (VJ Day)
Below: The U.S. Navy B-1 Band on stage in Hawaii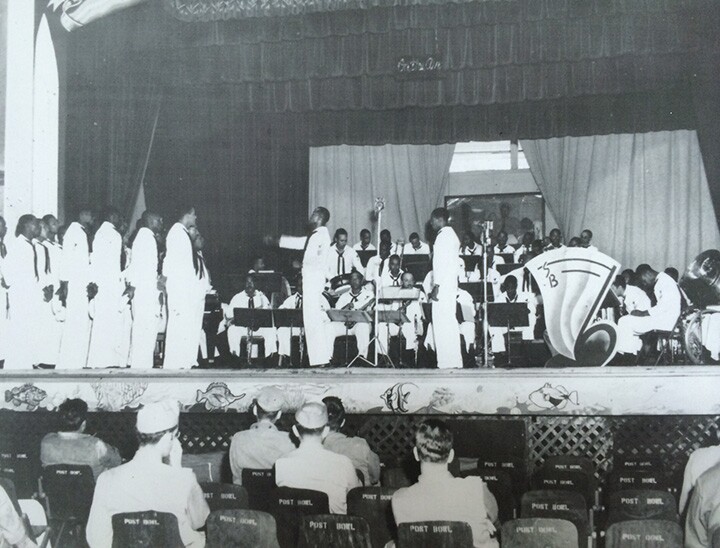 Historic photos courtesy of Simeon O. Holloway