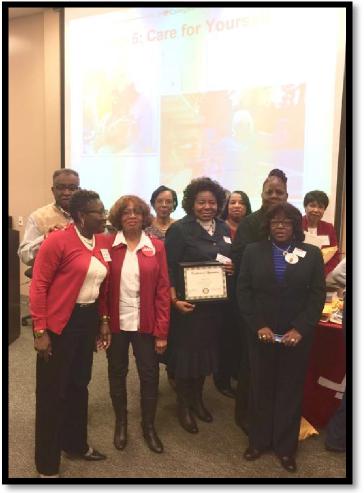 By Mary M. Levi, AARP-Georgia Volunteer

Recently, I had the honor of sharing the AARP's Prepare to Care Presentation. The event, "Bridging the Gap: Moving Forward With Life," was held in Augusta, Georgia at the Tabernacle Baptist Church's Family Life Center. The purpose of the "Senior Informational Festival," was to share vital information regarding, healthy heart, healthy colon, estate planning, wills, and caregiving.

According to a recent report from the National Alliance for Caregiving, nearly 35 million Americans are providing unpaid care for an older adult. Because of the aging population, many families are proactively utilizing available resources. The presentation along with the Prepare to Care Booklet provides excellent resources assisting families when preparing to care for their loved ones. This proactiveness may have been one of the reasons for a large number of diverse age groups attending the Prepare to Care Presentation. Also, attending the event were Catherine B. Butler, AARP Georgia Augusta Chapter President and Romell Cooks, AARP Georgia Age-Friendly Augusta Lead Volunteer.

As a token of appreciation, the church leadership awarded me a certificate of appreciation in recognition of my presentation on AARP at their first annual Bridging the Gap Informational Festival.