Editors Note: Continued from Part 1

By Dick Weinman, Thin Edge of Dignity



To my sorrow, "home" was not going to be the place our family had called home since 1967. My new "home" was to be an Assisted Living Facility.

It was inevitable. I couldn't live alone and be responsible for myself. My life was forever to be joined to a person who would provide my personal care; someone who, in this institutional setting, would facilitate or hinder the rest of my life: the caregiver. She would turn out mostly to be a college age young woman. She would be expected to dress, shower, clip nails, wipe asses, clean toilets of the old, sick or injured – or all of the above; men and women who couldn't do, who had forgotten how to do, or couldn't remind themselves to do those things for themselves.

Now that I have emerged from the clouds of Oxycodone and other narcotic painkillers, I have a clearer picture of how I not only staved off that smiling chimp on the dentist's ceiling, but also have avoided cavities, even with a no-use left hand and wimpy right hand.

Crest proved to be my saving grace. After some experimentation, I settled on that brand. It was the only toothpaste I could use for my new action plan. Not just any Crest, mind you – not the simple, old-fashioned tube, nor the modern pump, but Crest Pro-Health.

With my tooth brushing methodology, this Procter & Gamble product line is my monkey-breath-fighting-cavity preventing -tooth whitening-enamel strengthening-gingivitis protecting- plaque scouring-breath freshening toothpaste of choice.

Crest Pro-Health combines the advantage of the flip cap with the ease of the tube. The tube alone ordinarily has a screw cap over the hole at its end. Since I have one wonky hand and one wimpy one, I can't unscrew the cap – unless by mouth, as I did at RIO.

When I was a newbie at the ALF, the brushing preparation was out of my hands – literally. Readying my toothbrush was one of the many tasks of the caregiver who woke and dressed me. She squeezed -- from the bottom of the tube please -- the paste onto the bristles. I let her do it. Despite my success at RIO, I was lazy. This putting-toothpaste-on-the-brush added points to other assists provided by the caregiver. It cost me more to live here. "What the hell!" I thought. It's only a few points to let the caregiver spread the paste, and hardly makes a dent in the $4700 per month that it costs me to live here. It's nothing when compared to the points for showering, toileting, putting me to bed, getting me up, dressing me, making my bed, and the other daily transactions of living I can't do for myself. I was OK with that.

Now it's in my hands again, literally. And the cost of living here has lessened – by a few dollars.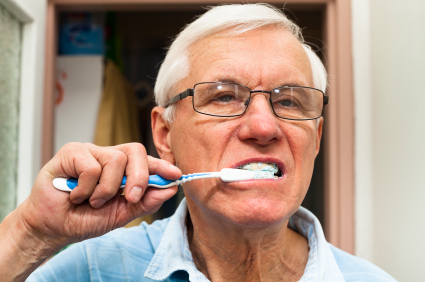 I wheel up to the sink counter. That's difficult right at the get go. The counter/sink is not construed in line with the Americans with Disability Act specifications. "Hello!" Wouldn't you think that in an ALF, there would be people in wheelchairs? Trust me: the counter is too high. I have to sit breast high and lean upward into the counter. (I'm glad I'm the gender I am.)

The toothpaste tube and toothbrush stand at attention in a twelve-ounce glass. I lift out the brush with my right hand and insert it between the thumb of my left hand and my unmoving second finger. That thumb can raise, ever so slightly - a whisper of a movement. With my right hand, I lift the tube out of the glass and put it at the bottom of my chin - trying to avoid the paste oozing onto my beard - and push the cap open.

Once that feat is accomplished, I slide my hand down the tube and squeeze. Simultaneously, I move the brush in my left hand close to the tube to receive the squishy stuff. Both hands are full - the brush in my left hand, the open tube in my right. I close the cap, again with my chin, and place the tube back into the glass.

Finally, with my free right hand, I take the brush from its clamp between left thumb and forefinger – and brush.

I've proven to myself, with both hands disabled, I can brush my teeth by myself.

I'm ready to confront that smiling chimp on my dentist's examining room ceiling. Cavity free. Breathe, minty fresh. My tooth brushing self-sufficiency firmly established. I believe in myself. Another episode at the ALF has passed for this day - one day - only to perpetuate itself after each meal, every day hereafter, weekends and holidays included.