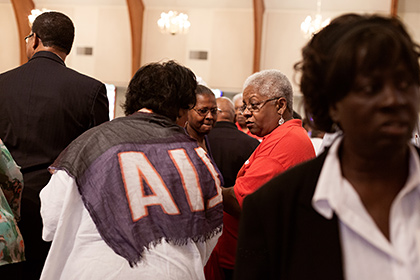 By Sue Price Johnson

Lorraine McClenny-Wright streamlined her life when her mother started showing signs of dementia. She bought a house with a first-floor bedroom to accommodate her mom, now 91, who moved in five years ago.

To be away from home less often, McClenny-Wright, an associate professor of accounting, switched from teaching on campus at North Carolina State University to online instruction in 2010.

When it became too much to juggle, McClenny-Wright, 63, cut back on her teaching schedule. Even so, full-time caregiving was stressful.

"You do everything twice. You pay your bills and her bills. You take your pills and make sure she takes her pills," she said. "You have two sets of property [to manage], two sets of doctor's appointments."

She had a relief valve: a walking buddy, who also was a family caregiver. McClenny-Wright knows others aren't so lucky.

That's why she wanted to be part of the AARP Foundation's new Connecting Caregivers to Community (CC2C) program, which finds and trains buddies for caregivers.

Holding isolation at bay

"The main focus is on the caregiver and trying to keep them from feeling isolated," McClenny-Wright said.

Besides leading the program at her church, Watts Chapel Baptist in Raleigh, she serves as a caregiver buddy herself.

More volunteer care buddies are needed.

They attend training sessions to learn about the physical and emotional challenges faced by caregivers. They also learn about community resources, which include home-delivered meals, adult day care centers, and places to learn more about the legal and financial issues caregivers face, especially for those with low incomes, said Debra Tyler-Horton, AARP North Carolina associate state director for multicultural outreach.

Buddies also get check-in calls with program coordinators and can attend quarterly meetings with speakers who talk about community resources.

The program tries to match buddies and caregivers in the same or nearby neighborhoods.

There's no long-term commitment: Buddies can end their participation or change caregiver partners at any time.

Buddies can lend an ear, give spiritual support, offer suggestions about resources that might be useful for caregivers, and encourage caregivers to rest, exercise and accept help.

But there are limits to the help a caregiver buddy can provide.

For instance, a caregiver buddy can't be left alone with a loved one, accept gifts or money, drive the caregiver or their loved one, dispense medications, or pick up prescribed or over-the-counter medications from a pharmacy.

Sympathetic ear

Anyone caring for a loved one can benefit from having someone to listen to them, McClenny-Wright said.

"You may be a very rational, well-informed individual, but when you're dealing with crisis after crisis—your loved one keeps you up at night, you can't get a good amount of rest—then it's sort of hard to sit and think clearly about the steps you need to take," she said.

Buddies are asked to be respectful of caregivers' privacy and not to disclose information to neighbors or other church members.

In Raleigh, CC2C has been launched at seven African American churches. Churches in the pilot program will share their experiences with other churches, which can then develop their own care ministries, Tyler-Horton said.

In addition to Raleigh, CC2C is being tested in Chicago; Humble, Texas; and Washington, D.C.

People interested in requesting a buddy or learning how to become a buddy can contact Tyler-Horton at dtylerhorton@aarp.org or by calling her at 919-508-0925.

Sue Price Johnson is a writer living in Raleigh, N.C.