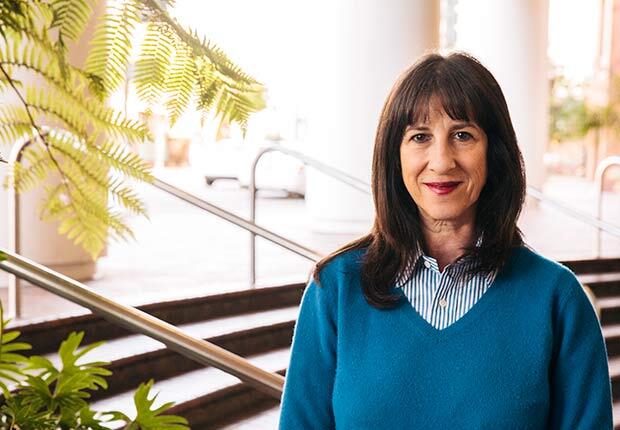 By Rita Beamish

When Gov. Jerry Brown (D) signed a bill into law in October, Elise Demerdjian was elated.

She felt a personal connection to the legislation, which launches an electronic registry in California that will enable health care professionals to seamlessly share patients' emergency and end-of-life care preferences.

As a volunteer for AARP, she had analyzed every aspect of the bill. She relied on her experience as a social worker, adult day care consultant and family law attorney to pore through its ramifications and its intent to uphold patients' wishes for medical treatments and interventions.

With its enactment, said Demerdjian, 57, of Glendale, "I feel a sense of activism that I don't get anywhere else. It's a good feeling."

Demerdjian had plucked the legislation from a database of hundreds of bills pending before the state Legislature. She researched the pros and cons and contacted the bill sponsor for details. She evaluated its appropriateness for AARP backing and consulted other nonprofits about their support. She sent a detailed analysis to AARP California, which then endorsed the measure.

Demerdjian is part of a "new breed of volunteers" whose career experiences and education make them ideally suited to research, analyze and advocate for legislation, said Blanca Castro, AARP California's advocacy manager in Sacramento.

Expertise and drive
These dozen volunteer policy advisers help AARP California proactively pursue its lobbying priorities: livable communities, caregiving and health, and financial resilience. They are an invaluable resource, said Castro.

"I am so humbled by this group," she said. "They are incredibly intelligent and accomplished. They have not only the expertise but the willingness to want to do something for people who are not able to speak for themselves."

Castro credited policy adviser Marc Hankin, 65, a Beverly Hills attorney and longtime elder law expert, with focusing on legislation that allows heirs to inherit property without the burden and expense of probate court. Alerted to its importance by Hankin's analytic report, AARP California backed the measure, and it became law in September.

The bill's sponsor, Assemblyman Mike Gatto (D-Burbank), said AARP's support and testimony "helped us prove that this is a long overdue tool for easily transferring a property's title and avoiding the bureaucratic probate process."

Another volunteer, David Wiltsee, a retired urban and regional planner, brings multilevel experience in government as a former employee and a member of many civic boards and commissions. He worked on several bills on elder residential care last year.

Wiltsee also testified in the state Senate for AARP California, urging passage of the state's version of the Caregiver Advise, Record, Enable (CARE) Act. The measure, designed to help designated caregivers with home follow-up care when a patient is discharged from a hospital, was signed into law in October.

"Anything I can do in the public interest—without expectation of remuneration—I feel good about it," said Wiltsee, 73, of Applegate.

Often working from home, the volunteers research hundreds of bills a year, with an eye toward solving problems that have become priorities for AARP California.

Demerdjian recalled learning about policy adviser opportunities in a chance meeting with another volunteer at a party. "I thought: This is right up my alley. I can use the skills, education and training that I've had for 30-plus years," she said.

"It's so easy to see what's wrong with our health care system, our judicial system, our government—and you feel like nothing ever gets done.

"It may sound trite, but if people would get involved, they can make a difference," Demerdjian said. "How can I complain about the process if I don't participate in the process to make a difference?"

To learn more about volunteering with AARP California, contact cavolunteer@aarp.org or call 626-585-2612.

Rita Beamish is a writer living in San Mateo.