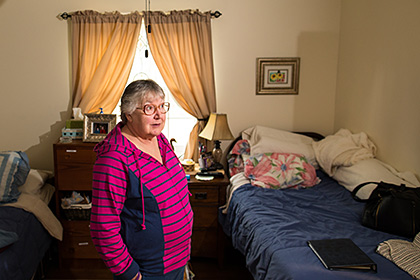 By Donna Liquori

After Thana Howe's husband was diagnosed with Alzheimer's disease in 2007, their lives were upended.
Their 45-year marriage had been filled with travel and reading aloud to each other on their sailboat. Now their days are unpredictable. On some days her 74-year-old husband, George, can walk; on others his legs give out.
Howe feels overwhelmed. And often she lacks information that might help her cope.
She looked for guidance on how to handle their lives from pamphlets, newspapers and chats with friends. Even six years after the diagnosis, Howe is still discovering information she wishes she had known years ago.

Unhelpful advice
"You get conflicting advice, and it's all very confusing," said Howe, 75, of Scotia, a Schenectady suburb.
Last summer, her husband, a retired U.S. Navy commander, was hospitalized for aspiration pneumonia, which created more worries. And while Howe wants to keep her husband at home, it's been a strain.
Trying to find resources to help, while juggling all the household responsibilities and caregiving, has consumed time and energy. "I got depressed and overwhelmed," she said.
For Howe, one phone number to call or one person to guide her would be not only a time-saver but an emotional relief.
Family caregivers across the state echoed Howe's concerns during 12 AARP public meetings earlier this year. Those sessions helped AARP New York understand what caregivers need and helped define the message AARP will convey to state officials during the 2014 legislative session.
Foremost is calling on the state to help caregivers manage the vast maze of support programs by providing a navigator to be, in essence, a case manager.
"We heard over and over in every corner … [caregivers] don't know where to start. One thing they do know is they need help," said Bill Ferris, AARP New York associate state director for advocacy.
"Informal family caregivers are the foundation that keeps older people living at home," he said. "That foundation is cracked."
About 4.1 million New Yorkers take care of a loved one who has limitations with daily activities, the AARP Public Policy Institute said in a 2011 report. The value of that unpaid care is $32 billion yearly.
Howe agrees with another AARP New York legislative priority: more caregiver guidance for financial and health legal issues, particularly when it comes to do-not-resuscitate orders and health care proxies.
The proposal is for a long-term care navigator system in every county to provide consistent information and assistance, including assessment, education and follow-up.
The system would expand NY Connects, an information and assistance service that Ferris said is inconsistent and inadequate. He said the services offered vary from county to county, and nine of the state's 62 counties don't participate—including most of the New York metropolitan area.
"We feel angry. We feel sad. We feel helpless. Sometimes we have an inability to cope," said Peggy Hernandez, 66, of Brooklyn, who attended one of the AARP New York meetings.
She retired early as a kindergarten teacher in 2011 to take care of her husband, Carlos, 68, who has Alzheimer's.
AARP New York is also asking state officials to increase funding for respite care, adult day care services and transportation.
Donna Liquori is a writer living in Delmar, N.Y.