I never noticed who was a caregiver, or what a caregiver looked like, until I became one.

There's no induction ceremony, either. It can happen suddenly. In my case, it was my mom Sarah's arrhythmia that did it.

It was then, at her doctor's office, when I realized that caring for her would require deep changes in my schedule and constant attention to her health.

I was a caregiver.

For others, it's a progression in the declining physical or mental health of a loved one.

In my previous installment I mentioned there are about 42 million caregivers in the U.S.

We're everywhere. When I take my mom to her doctor's appointments, as I push her wheelchair up and down hallways, I run into many other caregivers, pushing wheelchairs in the same or opposite direction.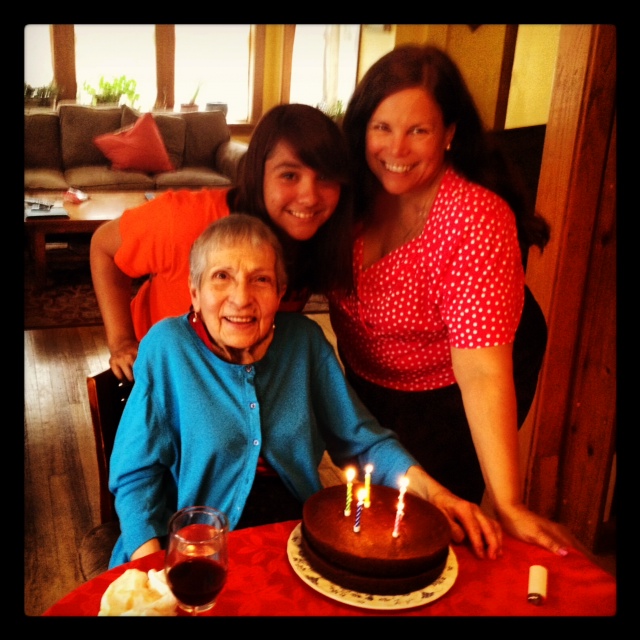 We exchange glances. A knowing smile. I wonder if, for others, it happened suddenly or slowly over time. I wonder what challenges they face.

I was reading a story in the Washington Post the other day. It talks about a 'caregiving cliff'. The main point is, we may be an army but there is not an unlimited supply of caregivers.

Many of us Baby Boomers are caring for an aging parent; others are caring for an ailing child or spouse.

Who will care for us when we no longer can take care of ourselves?

It's not an easy question to answer because it's not about readiness or disposition. It's math. It's pure demographics. As Boomers age, fewer caregivers will be available, but we'll also see a spike in the number of individuals dealing with chronic illnesses.

Check out this AARP study. Here's what gives me pause: right now there are seven potential caregivers – defined as adults 45-64 (like me) – caring for adults older than 80 (like my mom). But by 2050, when I'll be in my 80's, the ratio will drop to 3 to 1 (chart below).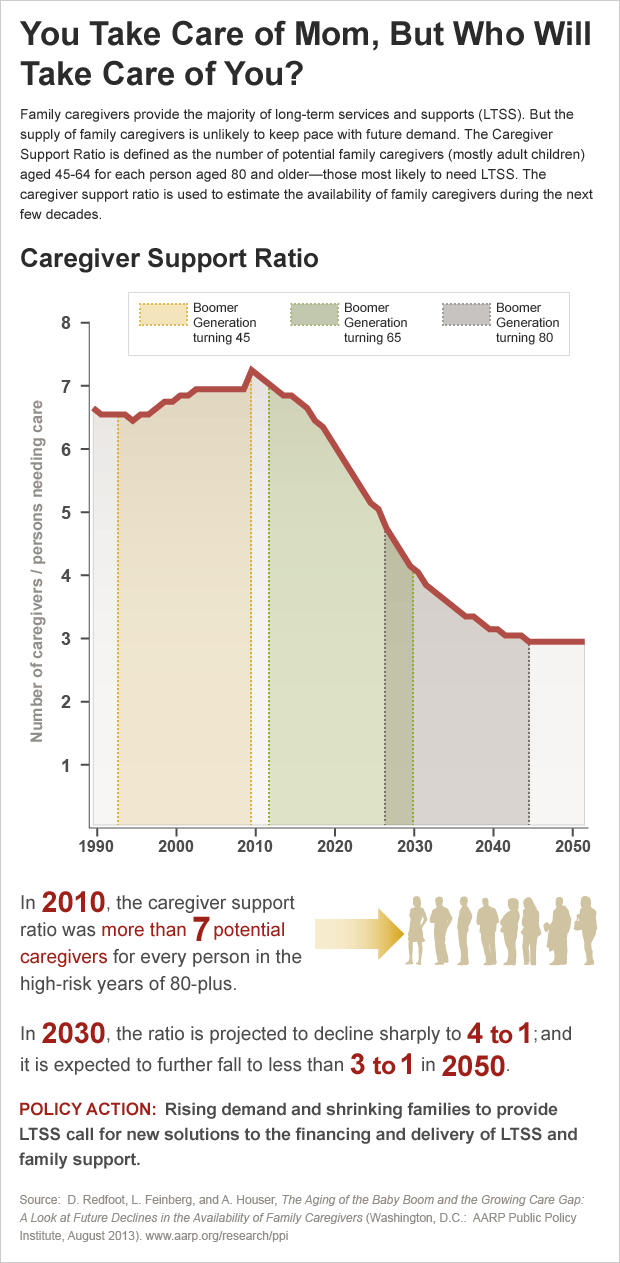 Unless…

There are no easy solutions but policy makers, legislators, think tanks and organizations such as AARP are looking at the issue, both at the short-term picture and the long-term challenges caregivers face.

Policies are needed that center long-term care services on families and individuals, rather than costly institutions, and greater efficiencies in public spending (that is, funds dedicated in a more intentional and continuous manner to caregiving programs and services).

There is also legislation in Illinois that could help caregivers: Senate Bill 3105, the Illinois Family Care Provider Act would extend Family and Medical Leave Act benefits to grandparents who are raising grandchildren and grandchildren who are caring for their grandparents by providing them with job-protected leave and benefits; Senate Bill 3304 allows for a family caregiver's name to be recorded when a loved one is admitted to a hospital, and ensures that the caregiver will be provided with training for any necessary follow up care that will need to be completed by the caregiver at home.

Much needs to be done. I will try to shed some more light into these policy issues.

If you have a comment, question, or story to share please feel free to leave me a comment, or send me an email.