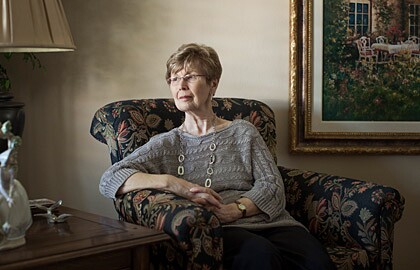 By Laura Mecoy • When she became eligible for Medicare, Pat Kersbergen assembled a 4-inch-thick accordion folder of materials, created spreadsheets of the different plans and was overwhelmed by information overload.
The retired Upland schoolteacher, now 72, decided to stay with the school district's medical insurance rather than sort it all out.
The following year, she sought the help of California's Health Insurance Counseling & Advocacy Program (HICAP), where a volunteer counselor helped her enroll in Medicare and select medigap and Medicare Part D prescription drug plans that were best for her.
The experience led Kersbergen to join the ranks of some 700 HICAP volunteer counselors who assist Californians who are eligible for both Medicare and Medi-Cal, the state's Medicaid program for low-income individuals and families.
"The seniors come in, saying they are overwhelmed, and we can say, 'Let's take a deep breath and work it out,' " Kersbergen said.
More volunteers needed
With the Affordable Care Act further expanding health insurance options, AARP California is working with the nonprofit California Health Advocates to enlist more volunteer counselors.
Demand for volunteers is expected to grow as the state launches a three-year demonstration program in September for "dual eligibles"—people who are both old enough to qualify for Medicare and have incomes low enough to qualify for Medi-Cal.
About 527,000 residents in Alameda, Los Angeles, Orange, Riverside, San Bernardino, San Diego, San Mateo and Santa Clara counties will have the option of enrolling in the demonstration program.
Each beneficiary will have the option of choosing one health plan to deliver all Medicare and Medi-Cal services.
In addition to traditional medical and long-term care, these services may include the same mental health and substance abuse treatment services currently provided by Medicare and Medi-Cal.
For those who qualify, some additional services may include transportation, meal deliveries, counseling and money management.
In addition to saving money for California, a goal of the pilot project is to provide higher-quality care so people can stay in their homes and communities as long as possible.
"The dual-eligible demonstration project could improve health care for some of the state's most medically vulnerable people, if they understand the program's benefits and enroll in it," said Katie Hirning, AARP California state director.
Elaine Wong Eakin, California Health Advocates executive director, said HICAP volunteers come from all stages and walks of life, and they need no special knowledge of health insurance.
Highly trained counselors
Each volunteer must provide 40 hours of service yearly after completing training. HICAP, funded by the California Department on Aging, requires each volunteer to undergo 24 hours of classroom training and intern for at least 10 hours. During the internship, volunteers spend time both observing an experienced counselor and providing counseling under supervision.
Volunteers usually meet clients in person at senior centers and other public sites. In every case, their job is to educate clients about the choices, not to make the choices for them, Eakin said.
During the enrollment period, Kersbergen meets with about nine clients a month for about an hour each at two senior centers. Before the sessions, she spends up to 90 minutes researching the best options for each client.
"I believe we are called to help," she said. "It is just a wonderful feeling ... to know what you are saying and doing is really having an impact."
To volunteer, call 800-434-0222 and ask the operator to be connected to your county HICAP office.
Laura Mecoy is a writer living in Los Angeles