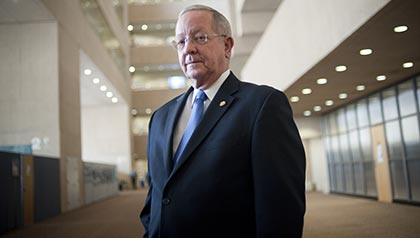 By Louis B. Parks

Over the course of several years, Liz Fritz's mother, now 79, took out four payday loans totaling $1,580. Annual interest rates ranged from 539 percent to 645 percent. For collateral, she used her Social Security check, her only source of income.

"It was so obvious that she didn't have the money," said Fritz, 53, a former San Antonio commercial real estate broker. "None of these loans ever ended. Every time she'd make payments, they'd renew her loan."

Eventually, suffering from declining health, Fritz's mother entered a nursing home in San Antonio. After a while, the lenders stopped trying to collect the unpaid debt. How much remained is unclear: Although Fritz's mother paid roughly $1,500, most of it was for interest. The principal was left largely unpaid.

AARP and other consumer groups are urging the Texas legislature to pass strong laws curbing high rates by payday and auto-title lenders. A recent AARP poll of Texans 45 and older found that 63 percent agree the state should cap payday and auto-title loan interest rates.

Roughly one-fifth of payday loan clients are 50 or older, according to a study by the Pew Charitable Trusts. White women are the most common customers.

Short-term lenders, who have about 3,500 storefronts across Texas, say they provide credit to people who cannot get traditional loans. They justify their high rates on their clients' poor credit records and warn that tighter regulations could drive them out of business.

Lenders justify high rates

"They serve a market that does not have many alternatives or options when it comes to getting credit," said Rob Norcross, spokesman for the Consumer Service Alliance of Texas (CSAT), the industry lobbying organization. "If they were regulated out of business, then the millions of people across the state that are their customers wouldn't have access to credit, and they would be driven to more expensive or illegal options."

"About 600,000 Texans get loans through credit access businesses, and that number is increasing," said state Sen. John Carona (R-Dallas), who backs stronger regulations.

With an auto-title loan, a client usually borrows a small percentage of the actual value of the vehicle, which serves as collateral. But if the client falls behind on the monthly payment, the car or truck, usually necessary for the person to get to work, is repossessed.

"The repossession numbers from auto-title loans are just incredible," said Tim Morstad, AARP Texas associate state director for advocacy. "It's [about] 95 vehicles across the state every day. It blows your mind."

In 2011, the legislature required short-term lenders to provide clearer information about loan fees and to register storefront operations. But consumer advocates, including AARP Texas, were frustrated that it did not pass tougher restrictions. That led Dallas, Austin, El Paso and San Antonio to adopt their own payday ordinances. Several other Texas cities are waiting to see what the state does this year before considering their own ordinances.

Statewide legislation sought

Texans "are being taken advantage of by predators charging 400, 500, 600 percent [interest], and that is wrong," said Dallas City Councilmember Jerry R. Allen, a leader in getting Dallas to impose strong lender ordinances in 2011.

He wants the legislature to follow Dallas' lead this year. "We are looking for a groundswell of public opinion saying, 'This is wrong!' "

The Dallas ordinances imposed tough zoning restrictions and gave borrowers an "exit strategy" from the endless rollover of a loan; each payment must be applied to at least 25 percent of the principal. The ordinances also limited the amount a lender can provide to 20 percent of a borrower's gross monthly income.

"The problem (with city ordinances) is there are a lot of places between here and San Antonio where you can get a 400 percent loan," said Austin City Councilmember Bill Spelman, a professor at the Lyndon B. Johnson School of Public Affairs at the University of Texas at Austin. "The state legislature should pass the bill they almost passed last time."

Passing legislation will not come easily. Texans for Public Justice, a watchdog group, reported that short-term lenders paid 184 lobbyists up to $8.4 million to defeat payday legislation two years ago.

Spelman predicts they'll do the same this year. "The profit margins in this business are insane," he said. Dallas' Allen said the lenders will try to get the legislature to enact weak legislation this session, then insist it preempts stronger city ordinances.

"You are not going to preempt our laws without one heck of a legal fight," Allen promised. "We have our dukes up. I'm serious. Our people are being taken advantage of, and we no longer will tolerate it."
Louis B. Parks is a freelance writer based in Wimberley, Texas.