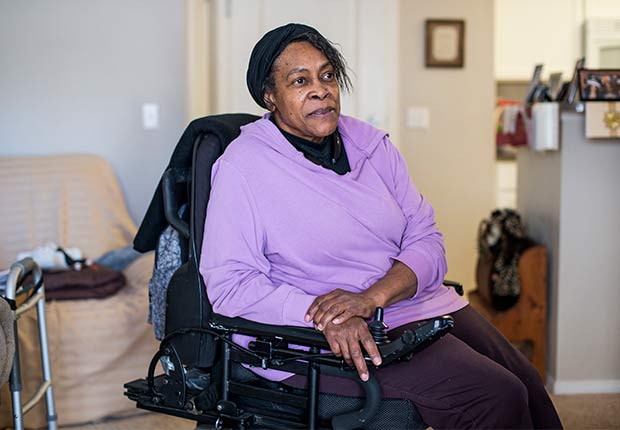 By Cynthia Pasquale

After Vivian Stovall suffered a mild heart attack in July, and blood clots formed in her left leg and lung, she spent a month recuperating. But she was still weak and could not stand on the swollen, painful leg for more than a few minutes at a time. Everyday chores—cooking, cleaning, the laundry—were impossible.

The 68-year-old Denver resident found help through her local Area Agency on Aging (AAA), the Denver Regional Council of Governments, which provides services for vulnerable older adults and those with disabilities who want to stay in their homes for as long as possible.

A personal care provider regularly performs household chores and helps Stovall with other life necessities. Stovall has used a transportation service to get to doctor appointments, and an ombudsman program helped her navigate the complicated health care system.

All these programs were "my saving grace," Stovall said. "If I didn't have these services, I don't know what I would have done. I wouldn't have been able to function very well at all."

But those services, which benefit more than 40,000 people through the state's 16 AAAs, may be in jeopardy. Although Colorado's economy has bounced back from a deep recession, the state constitution contains a taxpayer's bill of rights, commonly known as TABOR, that restricts spending and does not allow state and local governments to raise tax rates without voter approval.

When total state revenue exceeds the calculated TABOR limit, the state must return the overage to taxpayers.

'A big black cloud'
"For years, we've been trying to get funding increased for these already underfunded programs, but this year, we won't be fighting for an increase—we'll be lucky if funding isn't cut," said Kelli Fritts, advocacy director for AARP Colorado. "TABOR is a big black cloud over everything."

Later this year, $189 million must be returned to taxpayers. The budget plan of Gov. John Hickenlooper (D), however, estimates a deficit of $373 million, in part because of increased education and Medicaid costs.

Meanwhile, the demographic pressure will grow. The state projects future TABOR refunds while the population of those 65 and older is expected to more than double in the next 25 years, to about 1.5 million residents. They will likely require more public services.

Numerous attempts have been made over the years to overturn TABOR—including a ballot measure and a pending lawsuit—without much success.

Several advocacy organizations are preparing reports on the state's fiscal health and the aging population as they gear up to seek more funding. One nonpartisan coalition, Building a Better Colorado, has been holding community meetings around the state, seeking input on how state funds are spent, with hopes of developing proposed changes that could go to voters later this year.

Without a fix, people like Stovall could be in limbo if funding for AAA programs is diminished. Her retirement income is too high for her to qualify for Medicaid. "People like me who are not on Medicaid seem to be ignored and lost in the political battles," Stovall said.

Advocates say that allowing people to stay in their homes with some support costs much less than it takes to fund Medicaid. Providing a person with home health care and daily Meals on Wheels services costs about $390 a month, while reimbursement for long-term care through Medicaid costs approximately $4,800 a month, said Jill Eelkema, aging and disability resources manager at the Denver Regional Council of Governments.

"Keeping one person off of Medicaid for a year saves about $50,000," Eelkema said. "But if we cut community services, or demand goes up but the funding doesn't increase, then more people will have to rely on much more expensive services."­

Cynthia Pasquale is a writer living in Denver.