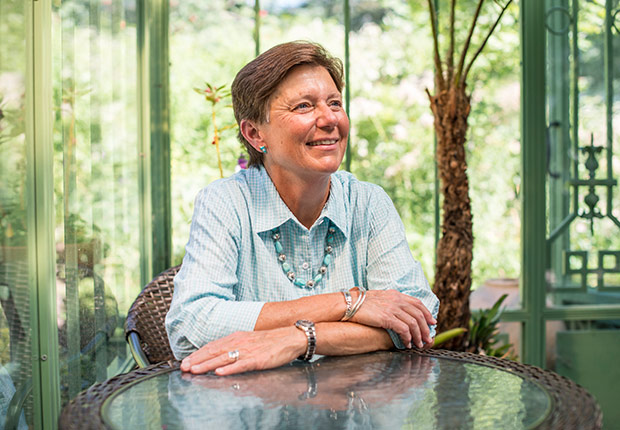 By Cynthia Pasquale

For more than 10 years, Jane Barton and a few girlfriends have had an ongoing conversation about sharing a home when they are older.

"I want to get older and weirder with people I know and love. Our social networks are incredibly important if we want to age well," said Barton, an expert on aging issues. This year she became an ambassador for AARP Colorado and travels the state presenting seminars on aging and caregiving.

Barton and her friends, in their late 50s, are not yet ready to move in together. But more older adults around the nation are doing just that — to save money, share household duties, build a close-knit community and care for one another.

When Lindsay Lucke retired a few years ago, she couldn't afford to stay in her house and didn't want to live alone. She moved to the third floor of a friend's home in Washington, D.C., paying $900 a month rent.

"We each count on the other if someone has to go to the hospital or if something goes wrong," said Lucke, 66. "If I've had a tough day, she's likely to be there and interested and caring. And I'll do the same for her."

Lucke's tenant-landlord relationship is one type of living arrangement people use to avoid isolation and protect their future, said Beth Baker, author of With a Little Help From Our Friends: Creating Community as We Grow Older. The book explores nine living models used around the country.

Leaning on neighbors
One model is cohousing, in which residents actively collaborate in the design and operation of their neighborhoods.

Silver Sage Village in Boulder, for example, consists of homes owned by residents who are mostly 50 and older. Some are married and some are single; recently, two married couples moved into one of the houses.

"We own our homes and have equity, and we are comfortable asking our neighbors for help and assistance," said Alan O'Hashi, who is 61 and has lived at Silver Sage for four years. Residents share upkeep of the properties and have a voice in community decisions.

Marilyn Nelson, 77, of Denver, has her heart set on another type of housing arrangement. She toured an independent living community in the area that provides meals and cleaning services but charges $3,000 a month for a studio apartment. She's hoping to find several women to share a home with and hire help to do all of the chores.

"For that amount of money, we could get someone to cook and clean for us and even cart us around to some events," Nelson said.

A few agencies and nonprofits offer advice and information, including the National Shared Housing Resource Center ( nationalsharedhousing.org) and Women for Living in Community ( womenlivingincommunity.com).

Baker said many older people are being proactive: "It's often the baby boomers who are willing to shake up the dice and reinvent."

Experts recommend that before moving in together, older adults should spell out their expectations.

Mary Beth Leitzmann, care coordinator at the Englewood law firm of Vincent, Romeo & Rodriguez, said she gets calls from widows seeking someone to move in with them.

"They say, 'I already have furniture and a kitchen full of dishes.' When that happens, the other person feels like they are treading on someone else's territory," Leitzmann said. "To be successful, people should enter into the agreement equally and honestly."

Lucke said her housemate found it difficult at first to share her home: "It took us a while to get used to each other's style and we found it difficult to say, 'I don't like the way you do this.' "

Karen Bush, Louise Machinist and Jean McQuillin—authors of My House, Our House: Living Far Better for Far Less in a Cooperative Household—thought of many potential issues, including what to do about a new boyfriend who stays overnight and hangs around for breakfast.

Discussions of these issues, Baker said, should begin early: "The more we're in denial about growing old, the less prepared we will be, and the more likely we'll be vulnerable to living alone or moving somewhere that isn't of our choosing."

Cynthia Pasquale is a writer living in Denver.