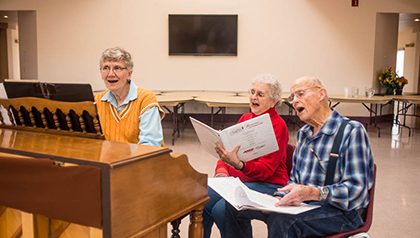 By Cynthia Pasquale

Edith Brooks began singing at age 3 but never had formal training. Esther Parsons—with a degree in music theory and piano—has made a career out of melodies. Now the two, along with a hundred or so others who are 50 and older, regularly come together to share their love of song in a northern Colorado program designed for them.

Singing for Seniors allows older people to sing for fun while reaping the physical and mental benefits of a choir experience. The group meets weekly for 90 minutes, learning various songs during 10-week sessions that culminate with performances at venues such as churches or senior living complexes. Three sessions, which cost $25 each, are offered throughout the year.

The program is an outreach effort of the Larimer Chorale in Fort Collins, whose members are selected by audition. "We wanted to give a choir experience to older adults, one that would be just as much fun as the Larimer Chorale, but without as much rigor attached," said Wendy White, the chorale's executive director.

Participants in Singing for Seniors don't have to audition, attendance is not mandatory, and knowledge of music isn't necessary.

AARP Colorado was involved in the development and launch of Singing for Seniors.

Highlight of their week

"One of the reasons we continue to be involved financially is that we've seen the powerful impact the program has had," said Cathy Lasnik, senior program specialist with AARP Colorado. She said group members often call rehearsals the "highlight of their week."

Initially, the program was designed as a sing-along, but participants wanted to be musically challenged and sing harmony.

"They wanted to be treated less like old people and more like the thriving individuals that they are. We totally revamped our approach," said Mike Krueger, conductor and artistic director of the Larimer Chorale. He also directs the Singing for Seniors choir, self-dubbed the Silvertones of the Rockies.

Brooks and her husband, Raleigh, who both turn 85 this month, joined the group last fall. They sing in their church choir but their children encouraged them to join Singing for Seniors.

"We love to sing and the director really is something else. He's very highly trained and professional, but he doesn't make us feel like dummies," Brooks said. "He cares about older people and their lives. He's just wonderful."

The group has performed songs ranging from Americana to folk pieces, as well as British and Irish tunes. Last summer, they did a four-part rendition of the National Anthem at a college baseball game.

Parsons, 75, of Fort Collins, had accompanied the Larimer Chorale on piano until a family situation forced her to retire. When she heard Krueger would direct Singing for Seniors, she signed up and later became the group's accompanist.

"I enjoy working with Mike. He has a way to explain things and get people who are not necessarily musicians to understand what to do and how to do it and still have fun," Parsons said.

"Singing is something you can do for a lifetime, and studies prove it is good for mental, physical, social and psychological health," Krueger said. During rehearsals, he provides lessons on breathing or voice preparation, music history—even reading music. Participants also perform physical and mental exercises.

For more information or to register for the summer session, which begins in June and will honor Fort Collins' 150th anniversary, call 970-416-9348 or email larimerchorale@gmail.com.

Cynthia Pasquale is a writer living in Denver.