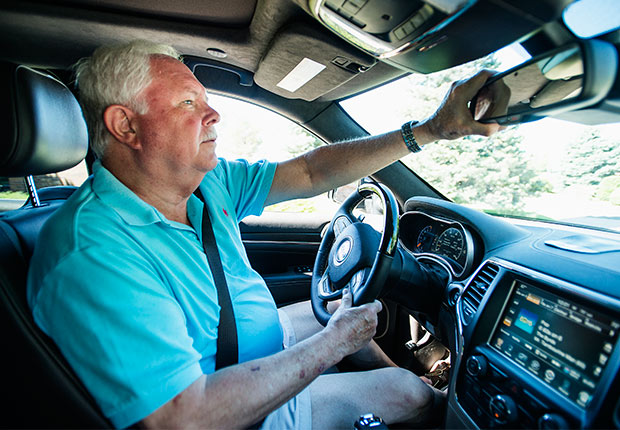 By Danica Lucker

Tim Trumbo remembers being required to take a driver safety class back in 1970 when he was in the U.S. Navy.

"They made everyone do it because accidents cost the military too much in money and personnel," he recalled.

Trumbo, 70, of Denver, learned a lot back then, but he learned still more when he attended an AARP Smart Driver class.

"The instructor showed us how to adjust your side mirror better to avoid blind spots," he said. (Hint: Lean your head against the glass of your driver-side window, and then adjust your mirror.)

Trumbo was one of about 20 older Coloradans who recently took the four-hour course on a Saturday afternoon. He hoped it would get him a break on his insurance, and it did—his carrier lowered his rate by 3 percent. He also signed up because his wife had taken the course several years ago, and recommended they take the course together this year.

The AARP Smart Driver course is offered across the country and provides information about physical adjustments motorists my need to make, the rules of the road, general safety tips, and changes to vehicles and in technology.

In the Colorado class, the instructor discussed how to use double turning lanes properly.

The course also addresses when you or a loved one may need to stop driving. Trumbo has an older family member whose driving he's monitoring. He found a chapter in the course guidebook addressing that issue to be very helpful. "I came away with a lot of great information," he said.

In Colorado most drivers can renew their license online until age 65; after that, they must do so in person or can renew by mail if they have a clean driving record.

Attendees gain insights on "how to stay aware of yourself and your surroundings and circumstances, and what you can do about it," said Bill Sanderman, 81, of Colorado Springs. He has taught the course for 16 years and is now the state coordinator.

Helpful strategies
Many people who enroll haven't taken a driving course in years, Sanderman explained. The AARP course—designed for those 50-plus but open to drivers of all ages—gives them up-to-date information about what to expect on the road and of themselves, too.

As people age, for example, their reaction time, vision and hearing can change, said Roger Kincade, 70, the instructor who taught the course Trumbo and his wife took.

"Today there are more distractions out there, too, like people on their cellphones in the car," Kincade said. "In order to be safe, you want to avoid all distractions when possible when driving, whether it's a phone or talking to someone or eating in the car or changing the radio station."

Kincade also offered strategies that drivers can use to feel comfortable in difficult situations. These include planning routes ahead of time, doing a dry run to a new place, and giving yourself and others plenty of room between larger vehicles.

Approximately 8,500 people in Colorado took the AARP course in person in 2014, and nearly 2,300 completed it online, Sanderman said. The classroom course costs $15 for members and $20 for nonmembers; the online course costs $17.95 for members and $21.95 for nonmembers. Participants receive a certificate upon completion.

Colorado requires auto-insurance companies to give a three-year discount to drivers 55 and older who have successfully completed a safety course, but leaves it up to the company to determine the amount.

There are about 120 AARP instructors in Colorado, and more are needed, Sanderman said.

AARP launched a driver safety course in 1979 to help older people maintain their skills on the road. Last year, the course got a major overhaul.

"Being able to drive represents a certain sense of freedom and independence to most people, so it's hard when people can't drive anymore," Kincade said.

To learn more about the AARP Smart Driver course, call 800-350-7025 or go to aarpdriversafety.org.

Danica Lucker is a freelance writer living in Highlands Ranch, Colo.