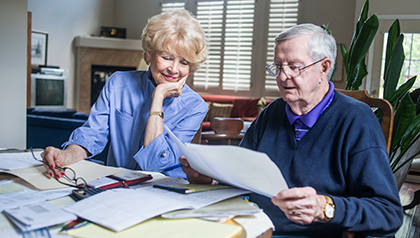 By Roger Fillion



En español If they could do it again, Mary Kreutzer and her husband would not have used credit cards and personal loans to help put their five children through college. The Lakewood couple ran up tens of thousands of dollars in debt.

Dick Kreutzer, 81, used much of his retirement savings paying down the debt. So did Mary, 77, who reckons she has about $50,000 remaining in savings—enough to cover emergencies but not enough to fund the retirement they had expected.

The Kreutzers receive Social Security, and they have bought long-term care insurance and life insurance. But, looking back, Mary Kreutzer wishes their kids had taken out student loans to pay for schooling. She has postponed retirement.

"There were some things, in retrospect, we were not very smart about," said Kreutzer, who had been a schoolteacher and a private consultant to local nonprofits.

To cover their costs, Kreutzer returned to teaching seven years ago, working with at-risk students in Lakewood. She's also a substitute teacher a couple of times a week for the Jefferson County public schools.

"I really enjoy teaching," said Kreutzer, but "it's not an ideal situation. I've had to work much longer than I anticipated."

If the thought of saving enough for a comfortable retirement keeps you up at night, you're not alone.

Help plan for your future

AARP Colorado is taking steps to help people save for retirement. A workshop on financial security will be held in Denver at 6 p.m., June 25, at Windsor Gardens, 595 S. Clinton St. To register, call 877-926-8300 toll-free.

"This is an opportunity to talk about Social Security—and what else you can do to augment your nest egg," said Angela Cortez, director of communications for AARP Colorado.

On average, roughly 191,000 Coloradans age 65 and older—32 percent—were kept out of poverty by Social Security income each year from 2010 to 2012, according to an AARP Public Policy Institute report.

In addition to Social Security, the workshop will cover retirement savings tools such as individual retirement accounts, 401(k) plans and pensions. It also will provide tips on how to save more and spend less, as well as advice on working with a financial professional.

"We want to help people reach their retirement goals," Cortez said.

People who see retirement on the horizon can use the AARP Ready for Retirement guide, which takes users through a five-step process that includes both the financial and nonfinancial aspects of retirement.

Other AARP financial planning tools include:

Roger Fillion is a writer living in Evergreen, Colo.