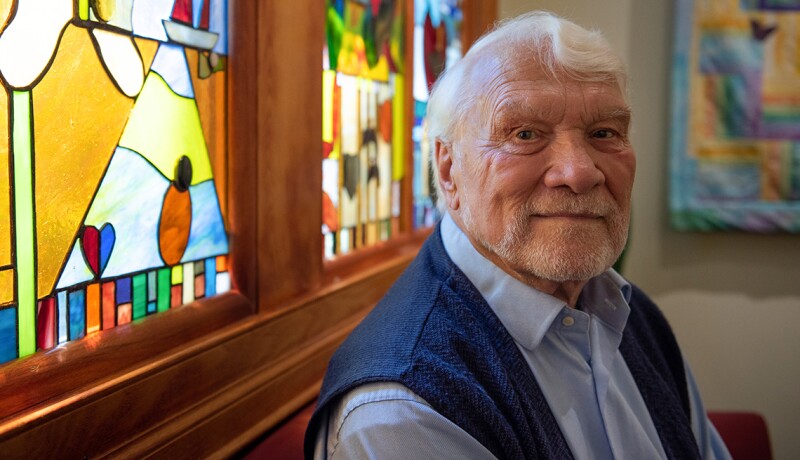 By Natalie Missakian

People began treating Bob Savage differently just days after his diagnosis of Alzheimer's disease in 2015. Savage has a name for it: getting "dementia-tized."

"People started speaking slower," Savage, of Southington, recalled. "They were very hesitant to talk to me. They kept talking to my wife. Within three or four days, the stigma took over, even with people I've known my whole life."

The 86-year-old retired special projects manager for the Connecticut Department of Mental Health and Addiction Services said he is still the same Bob Savage as before his diagnosis, though now he has a new purpose: eliminating stigma by educating people about what it is like to live with dementia.

AARP Connecticut volunteers listened to Savage speak in May as part of a training session under Connecticut's Dementia Friends program, being spearheaded by the nonprofit aging services organization LiveWell.

LiveWell is part of a global movement to change the way people act and think about dementia while giving them strategies to help, said Stephani Shivers, its chief operating officer for community services.

Fighting dementia stigma is one way that AARP fosters age-friendly communities, said Erica Michalowski, community outreach director for AARP Connecticut. "We focus a lot on the caregiver and what their needs are," said Michalowski. "But sometimes we forget about the people who are the recipients of that care."

Dementia friends

About 80 AARP Connecticut volunteers have been trained as Dementia Friends, requiring attendance at an hour-long session highlighting five key messages: Dementia is not a normal part of aging, it is caused by diseases in the brain, it involves more than just memory loss, it's possible to live well with dementia, and people are more than their dementia.

Around 10 of the volunteers are also being trained as Dementia Champions, allowing them to lead their own information sessions.

This fall they will join occupational therapy students from Quinnipiac University for a series of information sessions in the New Haven area aimed at first responders, the banking industry and the general public.

With roughly 77,000 people 65 and older living with Alzheimer's in Connecticut, a figure predicted to climb to 91,000 by 2025, Shivers said the conversations are long overdue.

"We need to help the community accommodate people living with dementia, just like we accommodate people with other disabilities," she said.

Savage gave examples of dementia-friendly practices, such as restaurants seating people with the condition in quieter areas and servers announcing the specials slowly or writing them down.

When diagnosed early, people with dementia can enjoy years as active members of society. Savage offers himself as proof.

By bringing dementia out in the open, he hopes to ease people's fear.

"Regardless of my diagnosis, I'm still me," said Savage. "I still have something to say, and I have a lot to contribute."

Are you interested in becoming a Dementia Friend or holding a session in your community? Email Michalowski at emichalowski@aarp.org or call 860-548-3163.

Natalie Missakian is a writer living in Cheshire, CT.