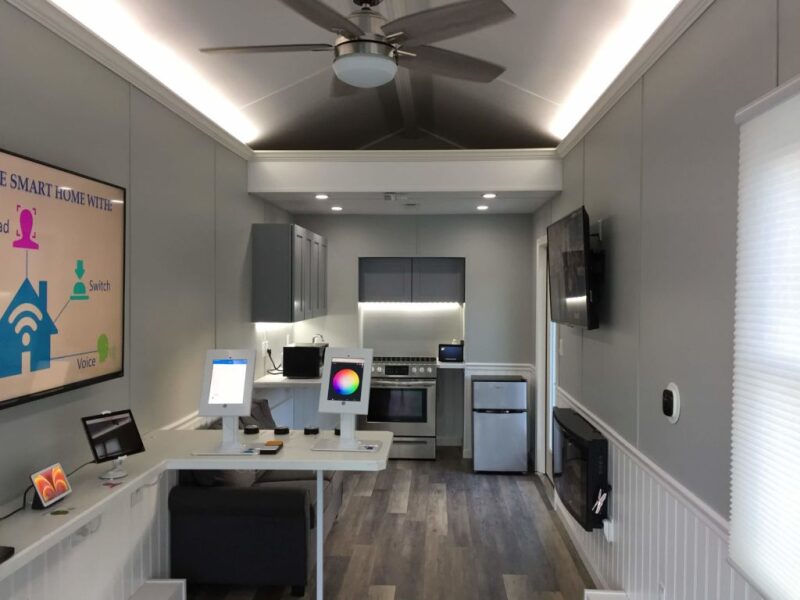 Lisa Fine received an Amazon Alexa for Christmas five years ago, thinking she would use it just to play music. But when her boyfriend developed a chronic infection that led to the loss of his leg, last September, Alexa became a lifeline.

"It has turned into a gift that I can't even put a price on," said Fine, 53, of Manchester.

The virtual assistant can remind him to take his medicine or call his doctor while she is at work. If he falls, he can ask Alexa to send Fine an emergency blast via an app called Ask My Buddy.

Virtual assistants like Alexa are smart technologies, enabling devices connected to the internet to operate interactively and autonomously. That's good news for older adults because they can help many of them live independently longer.

With that in mind, Oak Hill, a Hartford-based disability services nonprofit, has created the Smart Home on Wheels (SHOW), a traveling demo house outfitted with the latest in smart-home devices—from a Wi-Fi-connected fireplace and microwave to a video doorbell to automated window shades.

Getting the SHOW on the road

Since its November debut, at the Assistive Technology Conference of New England, in Warwick, R.I., the SHOW has been in high demand.

To build the structure, Oak Hill enlisted a Pennsylvania manufacturer that specializes in tiny houses—those ultra-compact dwellings made popular by HGTV.

AARP Connecticut provided financial support as well as grant funding for a lending library of devices that lets visitors borrow some of the equipment to test at home before they buy it.

"People learn much better by doing and seeing," explained AARP Connecticut's volunteer state president, Tia Murphy, of Bethel, who leads Livable Communities presentations.

Murphy, 65, said the project bolsters AARP Connecticut's efforts to help people 50 and over age in place. It also complements the organization's advocacy for reliable broadband access, which is needed to run the devices.

Smart technology is a game changer for aging. Camera-enabled gadgets, like Amazon's Echo Show, which has a built-in screen, allow caregivers to check in on loved ones from afar and can ease isolation and loneliness, said Kristopher Thompson, a smart-technology specialist for Oak Hill.

"My daughter who's 3 can drop into my 97-year-old grandmother's Echo Show, and they can speak to each other, and she's 1,300 miles away," he said.

Thompson hopes that by test­driving the equipment and seeing how it can make life easier, consumers will be comfortable using the technology.

"There is a learning curve, and then you realize how easy it is," he said.

Interested in seeing the SHOW? Email centersconnect@oakhillct.org or call 860-242-2274 for more information or to request a demonstration.

The SHOW will also appear at Central Connecticut State University in New Britain on Tuesday, June 18, during an AARP-sponsored Livable Communities conference. Visit aarp.cvent.com/Community2019 or call 877-926-8300 to register.

To find out about AARP Connecticut volunteer opportunities, contact Elaine Werner at 860-548-3169 or ewerner@aarp.org.

Natalie Missakian is a writer living in Cheshire, CT.