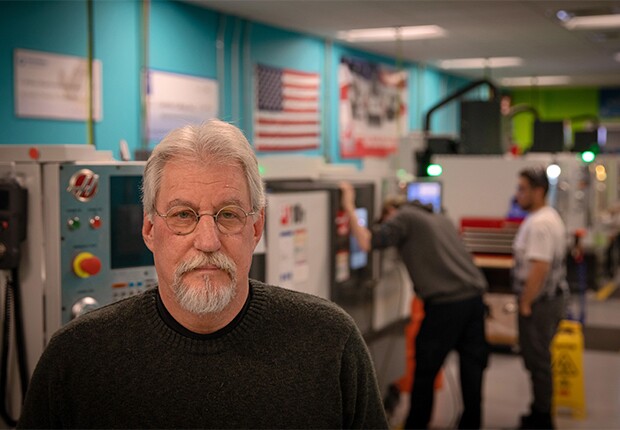 By Natalie Missakian

Chip Thermer may work in a classroom, but he knows factories.

The 64-year-old Watertown resident spent more than 30 years in manufacturing, starting as a crane operator and eventually working his way into management.

Today, he is channeling that trove of real-world knowledge into a new career: teaching the next generation of Connecticut manufacturing workers.

"This is the best job I've ever had, without a doubt," said Thermer, who directs three manufacturing degree programs at Goodwin College in East Hartford.

Through a collaboration with higher education institutions and technical schools, AARP Connecticut aims to steer more veteran workers like Thermer into second careers as instructors.

Urging older job seekers to retrain for positions in the growing manufacturing sector is also a priority.

"We want to provide opportunities for our retirees, and this is good for the state," said Nora Duncan, AARP Connecticut director. "There's a need. This is an economic development issue."

After years of decline, manufacturing is booming again in Connecticut.

The makers of heavy machinery like jet engines and helicopters, as well as the manufacturers of precision medical devices, have ramped up production in recent years as demand has surged.

A 2017 survey by the Connecticut Business & Industry Association revealed the need for more than 13,000 additional manufacturing workers statewide.

In response, community colleges and other higher education institutions have beefed up their advanced manufacturing offerings, but there's a shortage of teachers.

Karen Wosczyna-Birch, who runs the Regional Center for Next Generation Manufacturing at Tunxis Community College in Farmington, said eight of the state's 12 community colleges now offer advanced manufacturing certificate programs.

"Every one of them would be interested in hiring instructors," she said.

From factory to classroom

In January, about a dozen retirees attended an information session in Wallingford, hosted by AARP and education officials, to learn about classroom opportunities, such as part-time mentoring and adjunct faculty positions. Another forum is scheduled for June.

No teaching experience or degree is required. Many colleges offer workshops and professional development courses in teaching methodologies for those nervous about transferring their hands-on skills to the classroom.

For example, Central Connecticut State University has launched a three-day education-basics course for manufacturing professionals looking to switch to college instruction, Duncan said.

Manufacturing is cleaner and quieter than it was decades ago, Thermer said, making it a good option for older job seekers.

"You just have to have the desire," he said, noting that nearly 90 percent of his students have secured apprenticeships or jobs.

Goodwin College has a 25 percent tuition scholarship on most programs for AARP members.
Learn more at an information session on June 13, from 12:30 to 2:30 p.m., at Tunxis Community College.

Register at aarp.cvent.com/ManufactureTunxis. Contact nduncan@aarp.org or call 860-548-3161 for details.

Natalie Missakian is a writer living in Cheshire, CT.