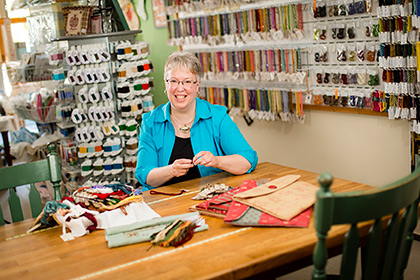 By Lynne Terry • Jeannine Cheney bought a needlework shop nearly nine years ago, abandoning a secure career as a chemical engineer to pursue her passion. Ever since, Cheney has been without health insurance because of the cost.

"It's a scary thing," said Cheney, 52, of Portland.

She's not alone. The AARP Public Policy Institute says nearly 116,000 Oregonians ages 50 to 64 were uninsured in 2011.

Beginning this month, they can choose from among plans sold through a health insurance marketplace called Cover Oregon.

About a dozen companies are selling plans through the marketplace, established by the Affordable Care Act (ACA). Some offer plans in specific regions; others offer coverage statewide. Most individuals and businesses with 50 or fewer employees have dozens of variations of the policies to choose from.

All cover basic care

The plans must cover basic care such as doctor visits, hospital stays and prescription drugs. Insurance firms can't charge a copayment for preventive care such as mammograms, Pap smears and screenings for high blood pressure or cancer.

The plans come in four levels—bronze, silver, gold and platinum. Bronze is basic coverage; silver is standard coverage; gold and platinum provide more coverage with higher premiums.

Premiums depend on various factors. A 60-year-old nonsmoker in the Portland area, for example, could pay about $350 a month for a bronze plan and as much as about $800 for the gold plan.

Adult children are able to stay on their parents' insurance until age 26, and insurers cannot deny coverage or charge higher premiums based on preexisting medical conditions, a person's gender or occupation.

Single people with income of less than about $46,000 (higher for families) may qualify for a subsidy or take it as a credit on their federal income tax returns.

The subsidy and the promise of coverage despite preexisting conditions have big appeal for Marcia Mueller, a 59-year-old Portlander.

She was diagnosed with breast cancer eight years ago, and two years ago she had surgery for skin cancer. Under the ACA, she won't be penalized if she wants to switch insurance companies.

A self-employed acupuncturist, Mueller pays for her own coverage. But her deductible is so high—$5,000 a year—that she had to borrow from her home equity line of credit to pay for the surgery.

Older people who buy private insurance before they are eligible for Medicare at 65 can't be charged more than three times the rate of premiums for younger customers. For those covered byMedicare, the ACA gradually closes the "doughnut hole" in Medicare Part D prescription drug coverage.

Comparison shopping

At CoverOregon.com, consumers can compare coverage and prices. They can sign up for a policy at the website or on a paper form.

Howard "Rocky" King, executive director of Cover Oregon, said the agency has trained and certified about 1,500 insurance agents to help consumers buy a plan. It has also teamed with groups, such as health care clinics and nonprofits, that will serve as consumer resources to help people navigate the exchange.

AARP Oregon volunteers and staff are attending events at libraries, senior centers and other venues to provide information and tips about where to get more help.

"We want to make sure our members have access to credible, useful information," said Joyce DeMonnin, AARP Oregon outreach director.

People who enroll by Dec. 15 will have coverage Jan. 1. Coverage for those who enroll later will start about a month after they sign up.

The ACA requires most Americans to have health insurance in 2014 or pay a penalty of at least $95 on their federal tax return.

Lynne Terry is a writer living in Portland, Ore.