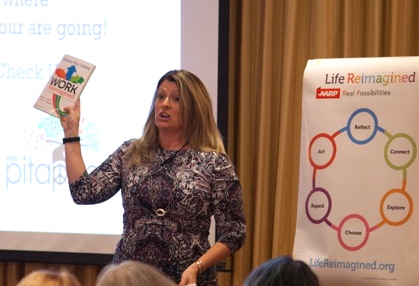 In 2011, Kim Pita was treading water, just trying to keep life under control.

"I was running a multimillion- dollar advertising agency with my then-husband, serving on five different boards of directors, and I had two young children. Running around like a lunatic, I was always grabbing on to my steering wheel, trying to get to that next place, always feeling behind," recalled Pita, 47, of Rocky Hill.

Then her sister died of an accidental drug overdose. Reeling and floundering, Pita eventually found her salvation in Life Reimagined, an AARP program launched in 2012 that helps people of any age navigate through life transitions.

Pita started by reading the book Life Reimagined: Discovering Your New Life Possibilities by Richard J. Leider and Alan M. Webber. She said the book spoke to her because it gave her an opportunity to reflect on things she hadn't thought about.

Usually, people feel too overwhelmed to begin when considering life changes, she observed. Questions such as "Where do I start?" and "Where do I aim?" can result in paralysis. Life Reimagined, however, "broke the process down into simple steps, and I hadn't seen anything like that before," she said.

Ultimately, Pita ended up flipping her life inside out. She left her company and her marriage, and she started her own consulting firm, Pita Peaces, which specializes in marketing for small businesses and nonprofits. In December 2014, she received a Women Redefining Media award from the Girl Scouts of Connecticut. She is also working on a memoir about how she turned the death of her sister into a life-altering journey.

Pita said the tools she got from Life Reimagined gave her the strategies she needed to succeed and to redefine who she was and where she was going in life. A hashtag she likes is #BringIt2016, "because now I have the strength, courage, stamina and perseverance to get through whatever is next. I am so thankful for this experience. I think I am the happiest I have ever been."

Life Reimagined offers workshops called Checkups, where trained volunteers lead participants through exercises that empower people in transition—large or small, personal or work-related— to visualize the future and take concrete steps to get there.

Groups spark growth
"Life Reimagined offers an opportunity to reflect, evaluate priorities and take action. Through this program, AARP inspires men and women to find their purpose," said Erica Michalowski, AARP Connecticut associate state director for community outreach.

AARP Connecticut has 24 guides who have facilitated around 370 Life Reimagined Checkups.

Volunteer guide Janice Thaxter, 70, of Westbrook, calls Life Reimagined a "personal GPS system." While individuals can opt for one-on-one meetings, Thaxter said the collaboration in small group Checkups is more helpful. "We all learn from each other.

This program is ageless and powerful, especially when you have people from ages 20 to 80 in the room together. The conversations are enlightening and eye-opening."

Upcoming Checkups in Connecticut are scheduled for:

April 6 at 1 p.m. at Enfield Senior Center, 299 Elm St., Enfield. Contact Susan Lather at 860-763-7426 or slather@enfield.org.
May 12 at 5 p.m. at Arden Courts of Farmington, 45 South Road, Farmington. Registration is required, as seating is limited. Contact Renee Michaud at 860-677-4060 or Farmington@arden-courts.com.
May 18 at 7 p.m. at Fairview Retirement Community, 235 Lestertown Road, Groton. For more information, contact Michalowski at 860-548-3163 or emichalowski@aarp.org.
Life Reimagined Checkups are available free for groups that want to sponsor them and people who want individual consultations.

Read more about Kim Pita's experiences with Life Reimagined.

Beth Levine is a freelance writer living in Stamford, Conn.